If you work in a hospital, clinic or almost any other medical office, you probably spend much of your time using an application like Epic or eClinicalWorks. If you drive or dispatch commercial trucks, you will probably use applications like Axon or ProTransport.
Every business has its own specialized software for getting their jobs done. At Gordon Flesch, many of our staff couldn't get their job done without eAutomate, an application for managing accounting and contracts for our customers.
Unfortunately, no core business application can provide the full document management functionalities of a high-end ECM system. Most businesses have forms and documents outside of their ERP that need to be processed. In addition, regulated industries like legal, medical, or energy have specific e-filing forms, electronic records management, and regulatory requirements that need to be managed in a document management system, but be accessible for day-to-day workflows.
Many businesses find it difficult to access data stored in distinct data silos. The good news is that a content management or ECM strategy can bring all your disparate applications and data sources together. Let's look at how this might work.
Here is a screenshot of an eAutomate screen. As you can see, we have embedded a Laserfiche button.

Through the search button, our billing staff can search for almost any document related to an account, often stored in a handful of separate databases.

At GFC, Laserfiche helps us send out more accurate billing information and invoices so our team gets paid on-time thanks to a system that automates steps and gives our team the most accurate and current information.
One Form to Rule Them All
Getting information into an ECM or document management system from a front-end system can be problematic as well.
The good news is that Laserfiche forms can also create a useful front end for other systems, providing a mechanism for tracking and categorizing documents before they disappear into other applications. In this way, documents that need to be destroyed for records retention or other functions can be traced, found and disposed of appropriately.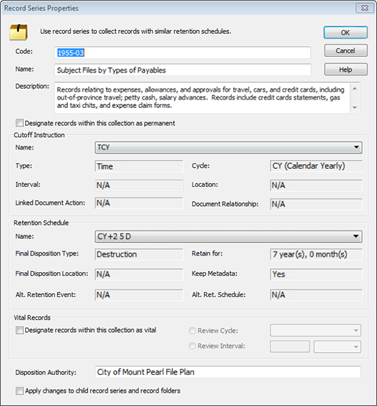 People Processing with ECM
Another useful use of Laserfiche integrations for human resources, which often struggles to integrate all the web forms, backend systems and applications that make a modern business run. In the Laserfiche form below, job applicants can fill out a digital application that will be sent immediately to the HR repository, which would automatically kick off the employment application process. HR can even use e-forms internally for event signups or other company initiatives.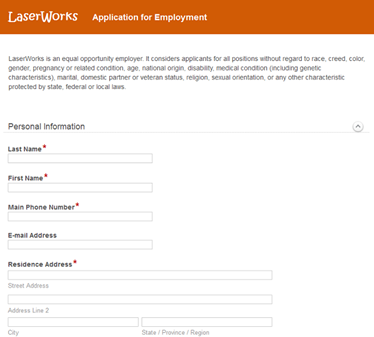 But Does it Make Your Job Better?
When many people talk about managed content or Electronic Content Management (ECM), they often talk about "improving workflows," or "finding efficiencies," or "digitization." These are important issues, but I'd like to address the more fundamental question — how does ECM make your job easier? A content management or ECM system can:
Retrieve documents easily
Search huge volumes of current and historical records
Find records stored in the cloud
By delivering the capabilities of document management systems into front-end applications, teams can use the data they need and generate the right document no matter how it is stored or collected. It makes everyone's job easier and makes it possible to focus on quality, rather than filing out a form in triplicate.
For more information on all the ways we can help assess and streamline your business workflows, contact the Gordon Flesch Company content management experts today.