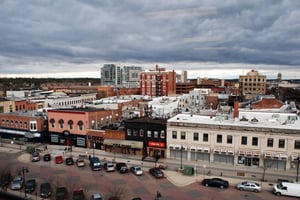 The Gordon Flesch Company's Cedar Falls Regional Headquarters is the premier provider of technology, print, and IT services for East-Central Iowa. With a storied history that spans more than 60 years, our founding values remain and allow us to offer innovative products, technology, and unparalleled service to help minimize the headaches associated with managing technology – and ultimately improve your organization's efficiency and productivity.
Ensuring your company has the latest multifunction devices, printers, scanners, computers, and other hardware can help minimize downtime, increase productivity, and reduce frustrations across the board. The Gordon Flesch Company provides solutions that can help streamline your operations, reduce unnecessary labor, and reduce waste.
Rather than adding another major capital expense as a budget line item, rely on the cash-flow-friendly leasing solutions offered through the Gordon Flesch Company's in-house financing division. Convenient, flexible, and customized to your unique needs, our leasing options help you conserve capital while still benefiting from having the latest innovative technology and the support to back it up.
A thorough assessment of a company's print environment often reveals numerous inefficiencies that slowly but steadily eat away at profits. Many businesses are surprised to discover they can save up to 30% on their printing costs while still getting some of the most technologically advanced and user-friendly equipment in the print industry. When combined with our world-class service and strategic approach, you can be assured that you'll improve print quality and efficiency, reduce paper waste to support green initiatives, and improve your supply management processes.
See the significant cost savings and results that one school district had in this Managed Print case study.
Anyone can sell you equipment, but is it the equipment you really need? It's hard to know in today's digital landscape in which technology is becoming more complex at every turn. Your small or mid-sized business in the Cedar Falls area can rely on the business management experts and IT consulting teams at the Gordon Flesch Company to guide you toward solutions that fit your needs and your budget. You can also be assured that we'll help identify areas for improvement including workflows and processes, cost savings, and network security.
Chances are, you're not in the business of managing or repairing technology or preventing cyberattacks. If you have a dedicated IT staff, you likely want them to focus on critical IT functions and initiatives that help grow your business rather than always being on the defensive. Our team of IT experts takes a proactive approach by taking on many of these worrisome issues head on, freeing up your staff to focus on why you hired them in the first place.
Reach out to the technology experts at our Cedar Falls regional headquarters today to see how the Gordon Flesch Company can help your organization thrive.