Faxing is still an important part of American business. Hospitals, doctors, banks, law firms and other institutions all rely on faxes for important prescriptions, records and contracts. With more professionals forced to work from home, organizations are struggling to ensure faxes are delivered and acted upon. The good news is that there is a solution built into most fax and multi-function machines.
If you are concerned you or your co-workers might not be able to receive faxes, here are simple instructions for how to use the fax forwarding capabilities in most multi-function devices. For all MFPs that GFC supports, faxes can be sent via email to a designated recipient using the built-in Fax Forwarding function. With fax forwarding, incoming faxes can be routed to an email address or network folder as PDF files. To ensure the proper routing of faxes and to prevent unauthorized users from seeing sensitive faxes, users can set the device to forward received faxes to a preset destination.
Received faxes can be routed via criteria in the Fax Header of the device such as Senders Fax Number and if recognized you can send to an alternate location.
You can even create multiple fax routing conditions according to a time schedule or turn the routing on or off for periods of the day. This is a great way to secure information and control wasteful junk faxes.
How it Works
The following screenshots demonstrate how to Forward Faxes on the Canon imageRunner line of multi-function devices. However, the process is very similar for all MFDs. For example on Ricoh devices, the built-in Fax Forwarding function is found found in the Fax Feature settings.
First, go to Settings/Registration > Paper Settings. Find the Receive/Forward function under Function Settings.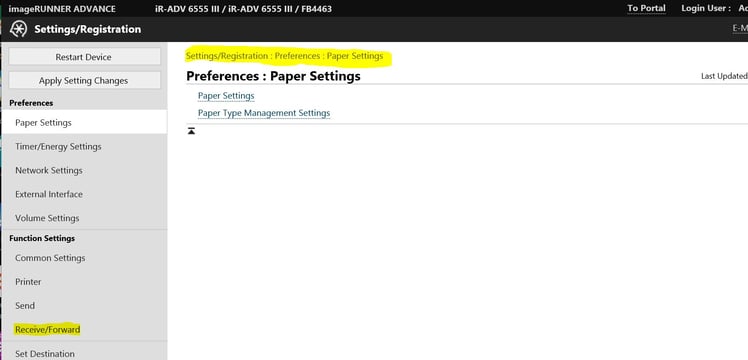 Click on Forwarding Settings.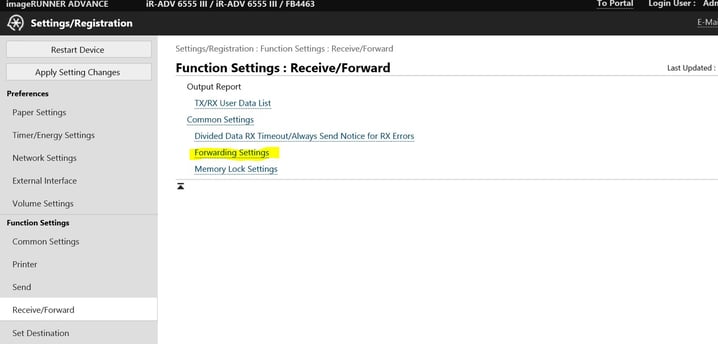 Here, you will find options for Forwarding, including all available conditional options. You can choose the destinations, timing, and formats for your Fax Forwarding. We recommending sending a test fax to ensure the routing is properly configured.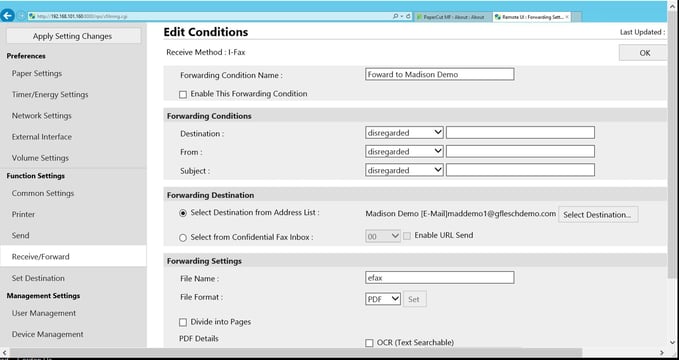 We hope this tutorial is useful. If you have any questions or are interested in a multi-function device with full Fax Forwarding capabilities, please contact us today or check out our Guide to Managed Print Services.