Gordon Flesch Company Acquires Indiana-based Jim Gordon, Inc., a Leading Canon, Sharp and Lexmark Dealer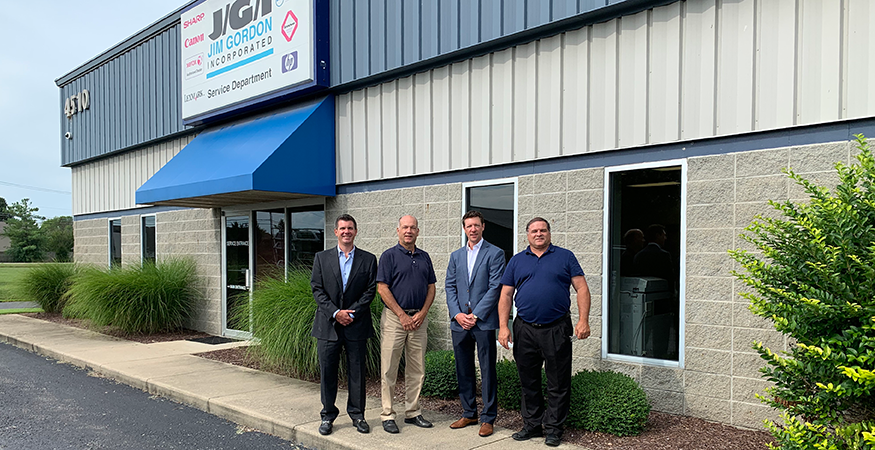 by Gordon Flesch Company, on 08/03/2020
Gordon Flesch Company's acquisition of Jim Gordon, Inc. creates one of the strongest technology providers in the state of Indiana.
Madison, WI ‑ Gordon Flesch Company (GFC) has agreed to acquire Jim Gordon, Inc. (JGI), a leading Canon, Sharp and Lexmark dealer headquartered in Columbus, Indiana. Following GFC's acquisition of Terre Haute-based IBE, this acquisition will help make GFC one of the largest office technology providers in the state of Indiana and solidify its position as the nation's largest independent Canon dealer.
Like GFC, Jim Gordon, Inc. is a family-owned and operated independent office technology dealer. JGI was founded in 1973 by Jim Gordon and continues to be led by his sons, Mark, Glen, Bob and Rick. Headquartered in Columbus, Indiana with an office in Bloomington, the company is a dominant player in the southern Indiana marketplace representing Canon, Sharp, Lexmark and other manufacturers. "JGI is known for developing great relationships with their customers and providing top-notch technology and service, all while playing a prominent role in their local communities," says Patrick Flesch, President of GFC. "This acquisition will not only expand our geographical footprint in the state of Indiana but aligns perfectly with our company's values. We are excited to welcome JGI into the GFC family."
In addition to sharing a similar corporate culture and history, GFC and JGI represent the same manufacturers and even use many of the same back-end systems, all of which will help facilitate a seamless integration. GFC currently has office locations in Indianapolis, Bloomington and Terre Haute, Indiana. Adding JGI's Columbus and Bloomington locations will add significantly to GFC's geographic territory and customer base. The merged company will be known as the Gordon Flesch Company and will serve business customers in Wisconsin, Illinois, Indiana, Iowa, Minnesota, Ohio and South Dakota. GFC has been recognized as Canon U.S.A.'s largest independent dealership for the past five years, and JGI is a strong Canon dealer across its territory.
"We are proud of the legacy and culture of high-quality service we have built over the years at Jim Gordon, Inc.," says Mark Gordon, President of JGI. "Joining the Gordon Flesch Company family is a natural fit and an exciting opportunity that allows us to continue building on that legacy."
About The Gordon Flesch Company
The Gordon Flesch Company is one of the largest family-owned providers of office technology solutions in the nation. Family-owned since 1956, the Gordon Flesch Company employs more than 600 people throughout 27 offices in the Midwest, with their corporate office in Madison, Wisconsin. They deliver unique business process expertise to solve challenging problems and achieve organizational goals. This includes integrating industry-leading software and hardware to build custom solutions that are supported by technical expertise, customer service and flexible, in-house financial services. Follow us on Twitter at @GordonFlesch.
About Jim Gordon, Inc.
JGI has been in business since 1973 and prides itself on quality service after the sale. JGI's extensive service offerings include digital copiers, facsimile, phone and voicemail systems to desktop computers, fileservers, networking, internet, typewriters, calculators, office furniture, folding machines, mail machines, shredders and more. JGI has offices and showrooms located in Columbus and Bloomington, Indiana.
Pictured, left to right: Mark Flesch, GFC Chief Operating Officer, Mark Gordon, President of JGI, Patrick Flesch, President of GFC and Glen Gordon, IT Specialist and Corporate Secretary for JGI.