Gordon Flesch Company Acquires Indiana Business Equipment, a Leading Canon Dealer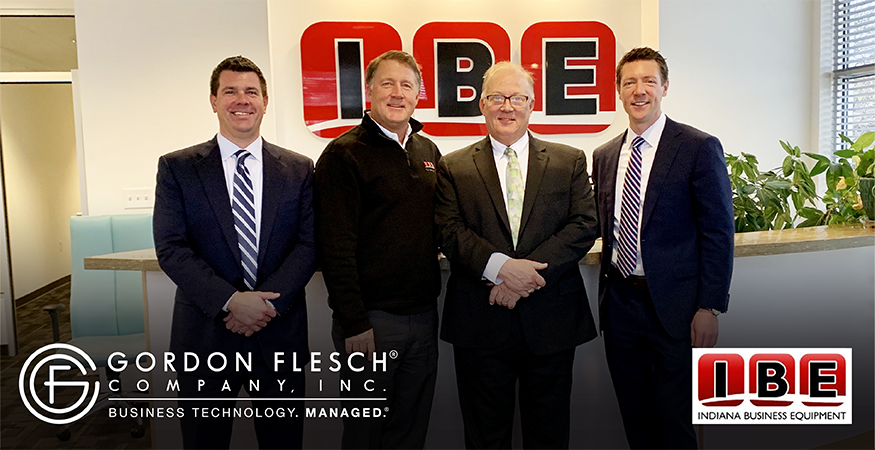 by Gordon Flesch Company, on 11/22/2019
Gordon Flesch Company acquires Indiana Business Equipment, further expanding the reach of one of the nation's largest independent office equipment providers.
Madison, WI ‑ Gordon Flesch Company (GFC) has agreed to acquire Indiana Business Equipment (IBE), a leading Canon dealer located in Terre Haute, Indiana. Following GFC's acquisition of Iowa-based, Advanced Systems, Inc., this deal will help GFC continue to grow its territory and solidify its position as the nation's largest independent Canon dealer.
Like GFC, IBE is a family business, founded by two brothers, Dave and Tom Goss. IBE has earned a leading market position and loyal customer base in Indiana and southeastern Illinois through quality customer service and value-added services. "We are very excited about the potential that this acquisition provides for us not only to expand our territory, but also because IBE's values and service philosophy align perfectly with GFC's," says Patrick Flesch, President of the Gordon Flesch Company. "Like GFC, IBE believes in providing excellent service to their customers, taking good care of their people, and representing the top products in our industry. We are excited to welcome IBE into the GFC family."
GFC currently has office locations in Indianapolis and Bloomington, Indiana, and adding the IBE location in Terre Haute will give the company an even stronger presence across the central part of the state and into Illinois. The merged company will be known as the Gordon Flesch Company and will serve business customers in Wisconsin, Illinois, Indiana, Iowa, Minnesota, Ohio, and South Dakota. GFC has been recognized as Canon U.S.A.'s largest independent dealership for the past five years, and IBE is a strong Canon dealer across its territory.
"IBE is proud of the reputation for high-quality service we have earned and the loyal customer base we have built across Indiana and into Illinois," says Tom Goss, Owner of IBE. "We are excited by the opportunity to join the GFC family and deliver even greater depth of products and even more services to the customers we serve."
About The Gordon Flesch Company
The Gordon Flesch Company is one of the largest family-owned providers of office technology solutions in the nation. Family-owned since 1956, the Gordon Flesch Company employs more than 600 people throughout 26 offices in the Midwest, with their corporate office in Madison, Wisconsin. They deliver unique business process expertise to solve challenging problems and achieve organizational goals. This includes integrating industry-leading software and hardware to build custom solutions that are supported by technical expertise, customer service and flexible, in-house financial services. Follow us on Twitter at @GordonFlesch.
About Indiana Business Equipment
Based in Terre Haute, Indiana, Indiana Business Machines (IBE) offers a full line of copiers from compact desktop units to high-speed digital multifunction systems. Whether making your staff more productive, improving workflow with scanning solutions, or achieving cost savings with print migration, IBE can help businesses achieve company goals. For more information, visit http://www.goibe.com/