GFC's Kelly Dolphin Named to In Business Magazine's Prestigious 40 Under 40 List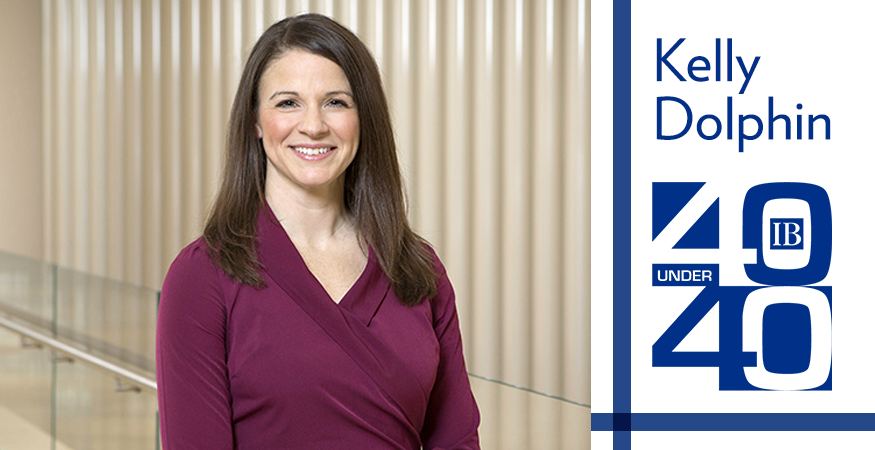 by Gordon Flesch Company, on 02/18/2020
MADISON, WI — Kelly Dolphin, Vice President of Finance, Controller for the Gordon Flesch Company, has been named as a member of the 40 under 40 class of 2020 by Madison's In Business Magazine.
The annual 40 Under 40 award honors 40 of the most successful and civic-minded young professionals under the age of 40 in the Greater Madison area. The editorial board at In Business carefully selects noteworthy nominees that have achieved success in their industry, play an active role in advancing that industry, and enhance the Greater Madison community. The Gordon Flesch Company is thrilled that Kelly Dolphin has been recognized for this prestigious award.
Kelly joined GFC in January of 2014, bringing extensive accounting, business and systems knowledge gained during her previous work in public accounting and in private industry. In recent months, GFC has experienced an intense period of growth and transformation, driven in large part by acquisition, and Kelly has helped drive that effort. Kelly has also been instrumental in helping the company grow organically through investments in advanced IT and consulting services, including a new A.I. software solution called AskGordy.
Kelly believes that a key to ensuring GFC continues to grow is a willingness to work on unglamorous backend services that have a positive impact on the customer experience. In addition to her role helping to expand the GFC product portfolio and service areas, Kelly is active in the Madison community, serving as Vice President and volunteer coordinator for the Hawks Landing Swim & Dive Team, where her children are active competitors. Kelly is the second GFC executive to earn this honor, following president Patrick Flesch, who earned the honor in 2018.
"I am proud and flattered to be included on this list along with an amazing and diverse group of business leaders. It is inspiring to see so many smart, successful executives manage to achieve business success while remaining active and engaged in the community," says Kelly Dolphin, Vice President of Finance, Controller for the Gordon Flesch Company. "It's an honor to win this award, and I hope that I can help GFC remain a leader and innovator in the Madison business community."
To learn more about the 2018 In Business Magazine 40 Under 40 class, visit http://www.ibmadison.com/In-Business-Madison/Directories/40-Under-40-Directory/
About The Gordon Flesch Company
The Gordon Flesch Company is one of the largest independent providers of office technology solutions in the nation. Family-owned since 1956, the Gordon Flesch Company employs more than 600 people throughout 26 offices in the Midwest, with their corporate office in Madison, Wisconsin. They deliver unique business process expertise to solve challenging problems and achieve organizational goals. This includes integrating industry-leading software and hardware to build custom solutions that are supported by technical expertise, customer service and flexible, in-house financial services. Follow us on Twitter at @GordonFlesch.
About In Business Magazine
In Business magazine is the premier business-to-business publication in the Greater Madison region, celebrating more than 35 years of editorial excellence. The nationally acclaimed editorial department covers the companies and people shaping the business community through readership news, analysis, and in-depth profiles, now in print for the Greater Madison region, and on the Web for both Greater Madison and statewide for Wisconsin with our regional coverage of the people and businesses shaping our economy.