Patrick Flesch Named to In Business Magazine's 40 Under 40 List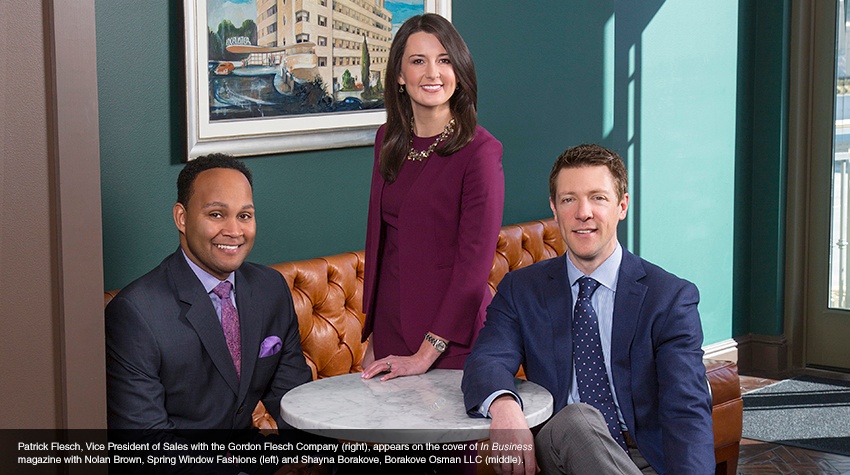 by Gordon Flesch Company, on 03/01/2018
MADISON, WI — February 28, 2018 —Patrick Flesch, Vice President of Sales, Western Region for the Gordon Flesch Company has been named as a member of the 40 Under 40 class of 2018 by Madison's In Business Magazine.
The annual 40 Under 40 award honors 40 of the most successful and civic-minded young professionals under the age of 40 in the Greater Madison area. The editorial board at In Business carefully selects noteworthy nominees that have achieved success in their industry, play an active role in advancing that industry and enhance the Greater Madison community. The Gordon Flesch Company is thrilled that Patrick Flesch has been recognized for this prestigious award.
Patrick joined GFC as a sales representative in 2006 and moved to Madison in 2012 where he now serves as the Vice President of Sales and as member of the Board of Directors. With over 600 employees, GFC is now the largest independent Canon dealer in the United States and has 26 offices in Wisconsin, Illinois, Indiana and Ohio. As an executive with GFC, Patrick is leading efforts to diversify and broaden Gordon Flesch's business outside of its core offerings in office technology. He has aggressively invested resources and sales efforts behind the company's GFConsulting business, which he sees as an engine for growth.
Throughout his career, Patrick has committed himself personally and professionally to both innovating in business as well as supporting the local community. In addition to his role in helping to expand the GFC product portfolio, Patrick has accepted leadership roles in Diocese of Madison Catholic Charities, serving on the Development and Communications Committee, and has assisted in the execution of Catholic Charities' two main fundraising events, an annual dinner and annual golf outing.
Patrick has also continued the GFC commitment to providing community support through the Gordon Flesch Charitable Foundation, in addition to providing his personal and corporate presence at events and activities benefiting many local charities. "All of the individuals on this list have impressive and diverse backgrounds, but one thing we all have in common is a commitment to investing in the growth and success of our community," says Patrick Flesch. "It's an honor to be named among them, and I hope that I can continue helping to ensure that GFC remains a vital and innovative part of Madison's business community."
To learn more about the 2018 In Business Magazine 40 Under 40 class, visit the 40 Under 40 Directory.
About The Gordon Flesch Company
The Gordon Flesch Company is one of the largest independent providers of office technology solutions in the nation. Family-owned since 1956, the Gordon Flesch Company employs more than 600 people throughout 26 offices in the Midwest, with their corporate office in Madison, Wisconsin. They deliver unique business process expertise to solve challenging problems and achieve organizational goals. This includes integrating industry-leading software and hardware to build custom solutions that are supported by technical expertise, customer service and flexible, in-house financial services. Follow us on Twitter at @GordonFlesch.
About In Business Magazine
In Business magazine is the premier business-to-business publication in the Greater Madison region, celebrating more than 35 years of editorial excellence. The nationally acclaimed editorial department covers the companies and people shaping the business community through readership news, analysis, and in-depth profiles, now in print for the Greater Madison region, and on the Web for both Greater Madison and statewide for Wisconsin with our regional coverage of the people and businesses shaping our economy.