As more businesses return to more normal operations, there's a pesky question we all have to ask ourselves: Is it safe to touch that?
"That" can mean a doorknob, office microwave or even your computer keyboard. In order to contain and minimize the risk of spreading the coronavirus, everyone needs to think about how to disinfect our shared spaces. That is especially true of the one piece of office equipment almost everyone shares: the office printer.
We at GFC want to assure you we are doing everything in our power to disinfect and minimize the risk of spreading the COVID-19 virus for all our customers. We'd like to share our practices and offer some tips and best practices everyone can follow. By working together, we can all minimize the spread of this deadly pandemic.
HOW GFC FIGHTS COVID-19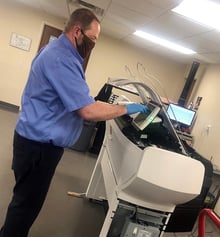 Considering the recent concerns with the COVID-19 coronavirus, everyone wants to know how best to clean their MFP screens and operation panels. GFC field technicians and installers will only visit a customer location with appropriate personal protective equipment (PPE) and sanitation products, as recommended by the CDC. That includes:
Face mask
Gloves, latex and nitrile
Hand sanitizer
Sanitizing wipes or spray bottle with 70% isopropyl alcohol and 30% water
Paper towels, microfiber or cloth to wipe down equipment
In addition, when clients call GFC for service, we may be able to help them remotely, including remote installation and setup, troubleshooting and even web-based training, all of which can eliminate the need for an onsite visit. If a service call is needed onsite, our team will follow these important precautions:
We will put on gloves and a mask in our vehicle before entering the client's building.
We will practice social distancing of at least six feet from anyone else.
We will not use a device belonging to the client unless absolutely necessary.
We will disinfect exposed surfaces before leaving.
We will monitor employee health and no one with cold or coronavirus symptoms will report to work.
Employees will follow CDC guidelines for personal health.
When loading machines for delivery to a customer site, we will protect the device from contamination using PPE.
HOW TO DISINFECT A PRINTER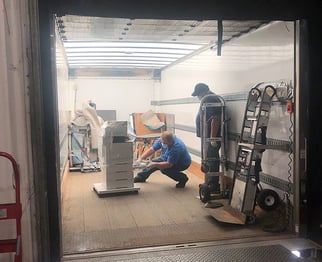 Anyone can disinfect and clean a printer. The most useful thing you can do is to wipe off touch screen with a disinfecting solution.
We recommend cleaning the parts of a printer or multifunction device that get handled in between every use. The best approach is to use isopropyl alcohol on a soft cloth.
Turn off the power.
Lightly moisten a cloth with isopropyl alcohol and gently wipe down the screen and panels.
A lint-free microfiber cloth is recommended Avoid paper towels as they may scratch.
Clean and dry thoroughly before turning on the power.
Avoid using anything that contains bleach, ammonia, or other harsh cleaning solvents. Those chemicals could damage or cloud a touchscreen. Also, do not spray any liquid directly on a device's surfaces or components, as getting liquid inside the device could damage the internal components.
THE ULTIMATE WORK-AROUND
If you want to avoid touching your printer or MFD completely, we have one sure-fire tip for hands-free printing. Most major manufacturers have mobile apps that let users print, copy or fax without ever touching the device. For example, the RICOH Smart Device Connector, which you can download here, lets you to operate a machine using a smart device. You can copy, print, scan and fax and even change copy settings like the number of copies, color or black and which and even simplex or duplex printing.
For more information regarding the Coronavirus ( COVID 19) visit the CDC's website: https:// www.cdc.gov /coronavirus/2019 ncov / transmission.html
GFC's professional service technicians can help any organization maintain a printer fleet. If you'd like to discover the benefits of a service and support program for your organization, contact us today or check out our Guide to Managed Print Services.