Recently, one of our Managed Print service customers received an invoice for toner cartridges from an IT services company. The invoice looked legitimate and offered a 10% discount for submitting an electronic payment. However, the fine print on the bill read, "Supplies are warehoused until delivery is requested."
Translation: pay us the money on the invoice for toner you will never see.
In this case, the customer's entire printer fleet was managed by the Gordon Flesch Company, so it was instantly clear this was an attempt to defraud the customer.
"One great thing about having our Managed Print service is that is eliminates the possibility that we will get hit by a toner scheme or false invoice," says Amos Cramer, the Help Desk Supervisor for Blanchard Valley Health System. "Even if we get an invoice that looks genuine, I know without checking that it's not legitimate."
Unfortunately, there are all kinds of scam artists looking to defraud businesses of all sizes. One of the most underhanded types of scams we see is what we call the toner pirate. The toner pirate is a real and insidious problem. In 2016, 21 people were arrested in a $126 million telemarketing scam for selling small businesses and charities overpriced toner for printers and copiers.
Printing supplies are often an unmanaged expense and require routine replenishment, which makes toner refills an ideal target for scammers. These scams can be quite sophisticated. Often, the fraudsters will do a lot of research and try to solicit information under false pretenses. They will conduct surveys or pretend that they are service technicians who need to get details about your printers. They will later use this information to send a legitimate-looking invoice that the accounts payable department will pay. Sometimes, they just deliver supplies with an invoice so it looks like a genuine business transaction.
Scammers might also offer to sell toner to a company at a price that seems too good to be true. In many cases, it's because the quoted price is for a single cartridge, but a large pack will be sent, bloating and padding the bill. Even worse, if the supplies are delivered, they're usually cheap, counterfeit cartridges that leak, have clogged parts or simply don't work with your machines.
To get a sense of how these swindlers work, look at the document below. This is a copy of an invoice sent to Blanchard Valley for an illegitimate transaction. As you can see, it looks like a typical invoice. It even came with a coupon for a $100 gift card to the person who submits the invoice for payment as an added inducement.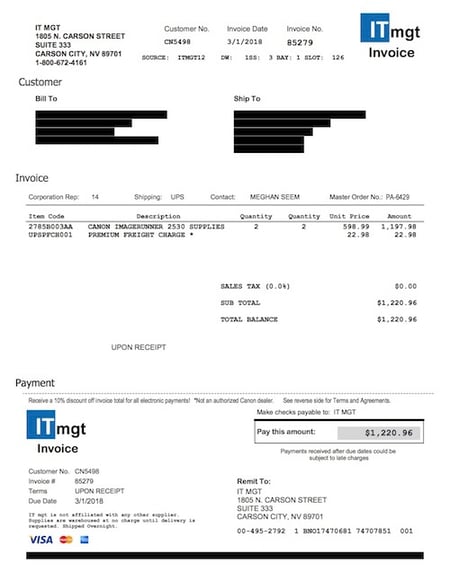 How to Avoid Printer Phone Scams — Send Them to Davy Jones' Locker!
Here are several best practices that will help you avoid these and other print-related scam artists.
Train all employees to not buy supplies from unsolicited phone calls


Assign only one person to be in charge of ordering office supplies and refer all such calls to that person


Never provide details about your equipment over the phone — toner pirates will call to collect small bits of information that they can use to make future interactions seem authentic and valid


Do not tell strangers your copier serial number, make or model over the phone


Only do business with authorized dealers


Know the contact person for your supply and Managed Print service company


Never sign for and accept a shipment you did not order


Buyer Beware — If an offer seems too good to be true, it is
If you ever receive a phone call and it feels suspicious or you're pressured to act fast, hang up and call your regular supplier. Also, remember that you are not legally obligated to pay for goods you didn't order. If you do receive supplies or think you're being scammed, contact your local Better Business Bureau, and follow these tips from the BBB.
Also remember that working with a Managed Print provider can eliminate this type of fraud. At the Gordon Flesch Company, we offer a single point of contact for ordering supplies, service calls, and paying your bills. Reach out to us today for a no-cost, no-obligation assessment of your print environment. Also check out the free guide below to learn more about what you can expect with a Managed Print program.