Gordon Flesch Company Holds Technology Summit at Historic Wrigley Field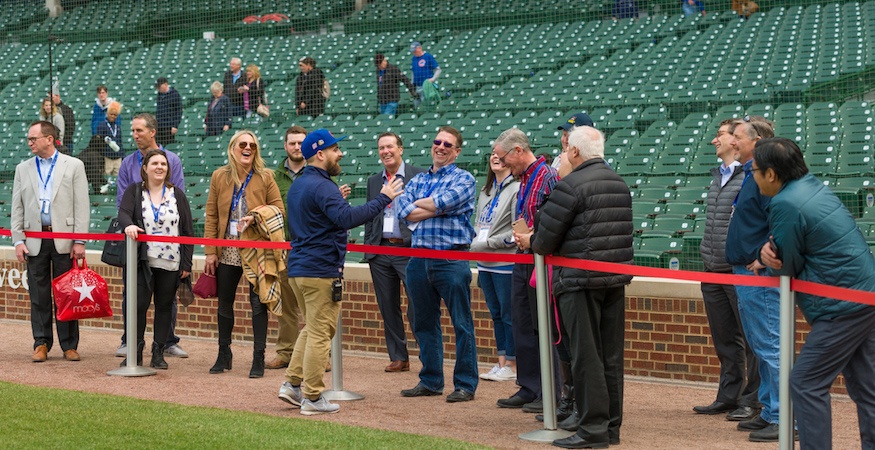 by Gordon Flesch Company, on 05/04/2018
MADISON, WI, May 4, 2018 - The Gordon Flesch Company (GFC) partnered with Canon USA to host the successful 2018 Wrigley Field Technology Summit in Chicago, IL. Following on last year's technology summit at Lambeau Field, Gordon Flesch and Canon plan to continue showcasing cutting-edge technology across the Midwest.
The 2018 summit kicked off on Tuesday, April 24 at the Brickhouse Tavern with an introduction by William Flesch, Senior Executive Vice President of the Gordon Flesch Company. Attendees then broke into groups for an hour-long tour of the Wrigley Field ballpark as well as sessions to learn more about GFC hardware, software and business solutions and cutting-edge Canon® products. Sessions included demonstrations of the newest hardware from Canon®, discussions on Managed IT Services, Enterprise Content Management (ECM) and Managed Print Services (MPS).
Wrigley Field was built in 1914 and is playing host to Major League Baseball for the 104th season in 2018. The ballpark provided a magnificent backdrop for the event, which coincided with one of the first warm spring days of the year. To close the event, attendees were treated to a visit from Hall of Fame pitcher and Cubs' legend Fergie Jenkins at the Budweiser Patio overlooking Wrigley Field.
During the session, which was sponsored by Continuum, Gordon Flesch's Managed Services Provider (MSP) partner, Jenkins answered questions from the attendees and signed memorabilia for the audience. "We're thrilled to be able to partner with our colleagues at Canon and Continuum to bring technology events like this to some of the great, historical venues in our region," says William Flesch. "We remain committed to helping businesses all over the Midwest discover the latest hardware, software and business processes that can help them find efficiencies and run businesses more effectively."
About The Gordon Flesch Company, Inc.
The Gordon Flesch Company is one of the largest independent providers of office technology solutions in the nation. Family-owned since 1956, the Gordon Flesch Company employs more than 600 people throughout 23 offices in the Midwest, with their corporate office in Madison, Wisconsin. GFC delivers unique business process expertise to solve challenging problems and help achieve organizational goals. This includes integrating industry-leading software and hardware to build custom solutions that are supported by technical expertise, customer service and flexible, in-house financial services. Follow us on Twitter at @GordonFlesch.
About Canon U.S.A., Inc.
Canon U.S.A., Inc., is a leading provider of consumer, business-to-business and industrial digital imaging solutions to the United States and to Latin America and the Caribbean markets. With approximately $29 billion in global revenue, its parent company, Canon Inc. (NYSE:CAJ), ranks third overall in U.S. patents granted in 2016.† Canon U.S.A. is committed to the highest level of customer satisfaction and loyalty, providing 100% U.S.-based consumer service and support for all of the products it distributes in the United States. Canon U.S.A. is dedicated to its Kyosei philosophy of social and environmental responsibility. In 2014, the Canon Americas Headquarters secured LEED® Gold certification, a recognition for the design, construction, operations and maintenance of high-performance green buildings. Follow Canon on Twitter @CanonUSA.
About Continuum
Continuum empowers managed IT service providers, giving them the technology platform, services and processes they need to simplify IT management and deliver exceptional service to their small and medium-sized clients. Continuum's vertically integrated service delivery model combines an unmatched SaaS-based technology suite with a world-class NOC and Help Desk, allowing them to not only remotely monitor, manage, backup and secure their clients' IT environments from a single pane of glass, but scale rapidly and profitably. Continuum employs more than 1,400 professionals worldwide and monitors more than 1 million endpoints for its 5,800 partners, including MSPs servicing more than 60,000 SMB customers and web hosting providers protecting more than 250,000 servers with Continuum's R1Soft product line. For more information, visit https://www.continuum.net/ or https://www.r1soft.com/ and follow on LinkedIn and Twitter @FollowContinuum.