Gordon Flesch Company Receives Succession Planning Award from Conway Center for Family Business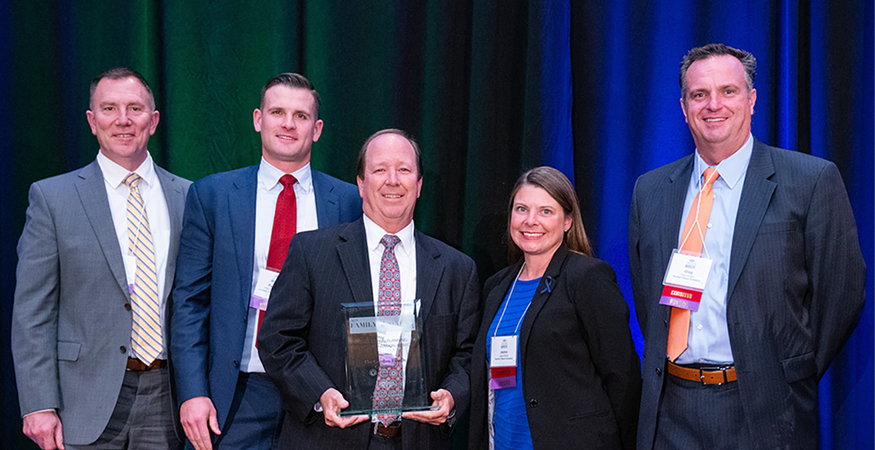 by Gordon Flesch Company, on 11/26/2019
COLUMBUS, OH – The Gordon Flesch Company was honored to receive the Succession Planning Award in the Large Company category from the Conway Center for Family Business. Last year, GFC was honored to receive a Milestone Achievement award from the Conway Center for reaching its 40th anniversary of business in Central Ohio.
The Gordon Flesch Company is proud that the company has remained family owned and operated through successful succession planning. GFC is currently in the process of transferring control from the second to third generation, naming Patrick Flesch as President and Mark Flesch as Chief Operating Officer (COO). Family owned since 1956, Mark and Patrick are continuing the legacy of founder Gordon Flesch, who began the company selling and servicing Thermofax machines from the back of his car.
In the office technology industry, GFC is something of an anomaly. While many family-owned competitors have been acquired or disappeared in recent years, GFC is growing while remaining independent and family-owned. "We appreciate all that the Conway Family Business Center does to support family-owned, locally-operated businesses that are family-friendly and customer-focused," says Patrick Flesch, President of the Gordon Flesch Company. "It is a real validation of our vision and purpose to win this award."
The Family Business Awards Program was established in 1999 to recognize excellence in family business and has honored over 250 local family businesses throughout that time. The Family Business Awards Program is made possible through the generous support of Dispatch Media Group, First Merchants Bank, Gryphon Financial Partners, Ricart Automotive, Rider + Reinke Financial Group, Taft/, and White Castle.
The Conway Center for Family Business is Central Ohio's resource for educational programs, resources and networking opportunities to support the growth and success of family-owned businesses. The Center celebrates the successes of family-owned businesses at its annual awards program and offers peer group opportunities for next-generation leaders, family business leaders, women family business owners, and more. The organization includes approximately 200 family-owned businesses from Central Ohio that employ more than 20,000 individuals. The Conway Center is celebrating its 20th Anniversary in 2018.
About The Gordon Flesch Company
The Gordon Flesch Company is one of the largest family-owned providers of office technology solutions in the nation. Family-owned since 1956, the Gordon Flesch Company employs more than 600 people throughout 26 offices in the Midwest, with their corporate office in Madison, Wisconsin. They deliver unique business process expertise to solve challenging problems and achieve organizational goals. This includes integrating industry-leading software and hardware to build custom solutions that are supported by technical expertise, customer service and flexible, in-house financial services. Follow us on Twitter at @GordonFlesch.