Gordon Flesch Takes Regional, Human Approach to Sports Sponsorships
by Gordon Flesch Company, on 05/21/2019
This article was originally published on the Imaging Channel. It is part of a series looking at how companies in the industry are leveraging sports sponsorship.
Gordon Flesch Company Company, one of the largest and most successful office technology solutions providers around, recognizes the importance of sponsoring and partnering with local and regional sports teams to bolster its brand and support its community.
Based in Madison, Wis., the company sponsors a wide range of teams and leagues in its vicinity including the University of Wisconsin's men's basketball and football teams as well as the college basketball teams at Marquette University, the University of Wisconsin-Milwaukee and Wisconsin Lutheran College.
While its home base is clearly Badger country, Gordon Flesch Company Company also sponsors conference rival Ohio State's men's basketball and football teams.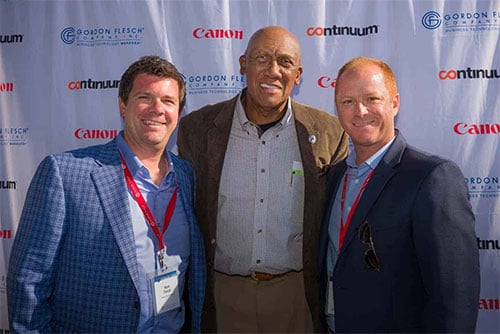 Few regions in the country have as much passion for and variety of professional sports franchises as the Great Lakes region. The company is a proud sponsor of the Milwaukee Bucks as well as the Chicago Cubs. It also sponsors events at Miller Park, home of the Milwaukee Brewers.
It sponsors the American Family Insurance Golf Championship along with the PGA Tour's The Memorial golf tournament each year. The company also throws its marketing muscle behind a number of minor league baseball teams including the Independent League's Madison Mallards, the Appleton Timber Rattlers and the Wisconsin Dock Spiders.
This deep and broad investment in so many disparate teams and leagues is emblematic of the company's commitment to local and regional audiences and fans that represent a large percentage of its customers, business partners and current and future employees.
"The Gordon Flesch Company Company is a family-owned and operated company, so many of these teams we sponsor are usually teams where we have a personal connection," said Connie Dettman, the company's director of marketing. "Our salespeople in the field have a feel for what resonates with the people of our communities and will suggest opportunities for sponsorships, events and other opportunities."
Dettman said Gordon Flesch Company takes a collaborative approach to determine which teams and events it will sponsor. Some could be the alma maters of executives or salespeople while other sponsored teams might offer a strong connection or intangible resonance with both the company and the community.
"We don't have one decision-maker for sponsorships," she said. "We make sure it's the right thing for the company and a good fit for us. We consult as many people as possible."
Like so many of their OEM brethren, dealers of Gordon Flesch Company's size and ambition are looking for more than just a quick way to splash their name and brand all over these various sports properties.
"We have several long-standing relationships with the college sports teams where we have branches," Dettman said. "But what we've tried to do in the last three years is to build an event around an iconic sports location where our customers would want to come, take a tour and learn about the GFC offerings."
What could be more iconic, particularly for Midwestern sports fans and would-be business partners, than Lambeau Field, the legendary home of the Green Bay Packers?
In May 2017, Gordon Flesch Company hosted its first Tech Summit at the then-unfrozen tundra in Green Bay. More than 125 customers and prospects from its three branches in Madison, Appleton and Milwaukee made the trip to attend breakout sessions on managed IT services, managed print solutions, managed content and check out all the latest hardware and software solutions from Canon.
It wasn't all business, of course. Attendees enjoyed a tour of perhaps the most famous football stadium in the world. A pair of ESPN announcers joined the fray to interview and chat with current Packer defensive lineman Mike Daniels and attendees were able to ask questions, pose for pictures and collect autographs and memorabilia.
"The event was a big hit," Dettman said.
Less than a year later, Gordon Flesch Company took the Tech Summit to Wrigley Field in Chicago, arguably the most famous sports stadium in the world, inviting more than 100 customers and prospects to tour the ballpark, attend breakout sessions and take in great stories from former Cub and MLB Hall of Fame pitcher Ferguson Jenkins.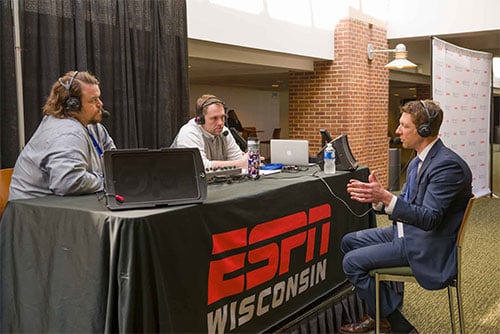 Just last month, the company held another event at the Nationwide Center in Columbus, Ohio, home of the NHL's Blue Jackets.
"Like the other events, we had speakers on GFC services and then went upstairs to the suite overlooking the ice and heard Bill Clement (former NHL All Star player and broadcaster) speak," Dettman said.
Afterwards, the 110 attendees were able to go down on the ice and take a slap shot on goal. "These events have been a huge success and are a great complement to our other ongoing sponsorships," she added.
Gordon Flesch Company continues to invest and participate in these sports sponsorships and events because they're unequivocally successful and drive business and interpersonal relationships. The company typically sends out follow-up surveys following these events and tracks attendees and prospects for three to six months to identify specific sales that come as byproduct of these sponsorship events.
"The customers have all raved about the events and we have been able to attribute a good portion of our sales directly to these events," Dettman said.
Aside from providing a constant and consistent presence and brand to sports events throughout the region, Gordon Flesch Company, like so many other companies investing billions each year on sports sponsorships, finds that relationship-building and serendipitous meet-ups are where these investments really pay off.
"I think the connection is deeper than that," Dettman said. "When we meet with people at events or games, it really gives us the chance to engage people in a more human, relatable way. It gets us outside of impersonal business meetings and opens more possibilities for unexpected connections and introductions."
In a world so dependent on and beholding to analytics and big data, Gordon Flesch Company still sees the inherent value of approaching every potential customer or business partner as a human being with emotions and interests and a desire to still be moved by the beauty or history or grandeur of sports.
"We do some market and data-driven analysis, but the most important thing is to get feedback and insight from our salespeople about what sponsorships will be most interesting and useful," Dettman said.
"We're a business-to-business, sales-driven company," she added, "so it's about fostering connections with communities and local customers. The benefits of sponsorships flow both ways. It helps us get our message out to the community, but it helps us stay open and exposed to new and interesting opportunities."