Gordon Flesch Company Becomes Authorized Ricoh Family Group Dealer Partner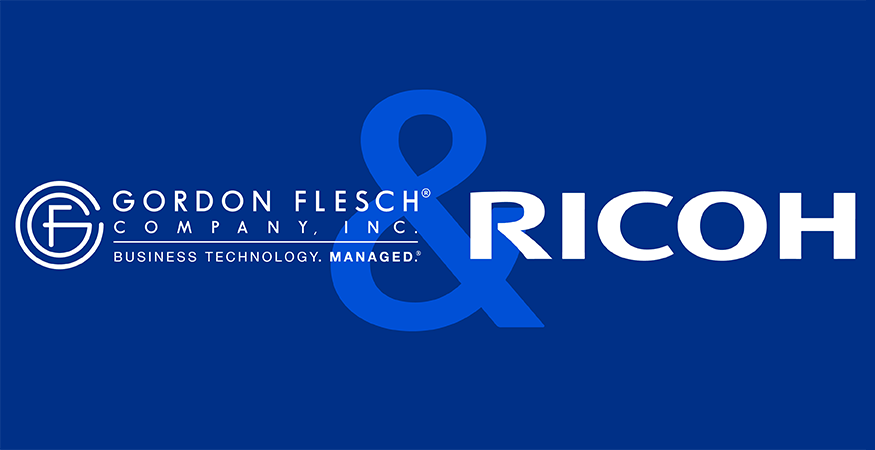 by Gordon Flesch Company, on 10/04/2019
Madison, WI – Gordon Flesch Company (GFC), the Midwest's largest office equipment dealer, has become an authorized full-line Ricoh Family Group (RFG) dealer partner. Adding Ricoh's brand to the GFC portfolio builds on decades of success and aligns with GFC's long-term growth strategy and focus on continually enhancing customer experience.
"With the addition of Ricoh's award-winning product lines, GFC will be able to deliver the most complete office technology, business printing, and production print technology solutions available," says Tom Flesch, CEO of the Gordon Flesch Company. "GFC's core mission has always been to deliver the most powerful technology available to help simplify the business challenges that our customers face every day, and this partnership will help ensure we succeed in that goal."
GFC's breadth and depth of service and support within the Midwest region, including its broad footprint of sales and servicing locations across IL, IN, OH and WI, will complement Ricoh's existing RFG dealer network.
"Ricoh is proud to have GFC join our dealer network," said Joji Tokunaga, President and CEO, Ricoh Americas. "Adding GFC is an example of our ongoing commitment to grow and expand with high-quality partners capable of providing industry leading customer value. We also feel the GFC culture is a great fit with Ricoh and our outstanding dealer network."
About the Gordon Flesch Company
The Gordon Flesch Company is one of the largest family-owned providers of office technology solutions in the nation. Family-owned since 1956, the Gordon Flesch Company employs more than 600 people throughout 26 offices in the Midwest, with their corporate office in Madison, Wisconsin. They deliver unique business process expertise to solve challenging problems and achieve organizational goals. This includes integrating industry-leading software and hardware to build custom solutions that are supported by technical expertise, customer service and flexible, in-house financial services. Follow us on Twitter at @GordonFlesch.
About Ricoh
Ricoh is empowering digital workplaces using innovative technologies and services enabling individuals to work smarter. For more than 80 years, Ricoh has been driving innovation and is a leading provider of document management solutions, IT services, communications services, commercial and industrial printing, digital cameras, and industrial systems.
Headquartered in Tokyo, Ricoh Group operates in approximately 200 countries and regions. In the financial year ended March 2019, Ricoh Group had worldwide sales of 2,013 billion yen (approx. 18.1 billion USD).
For further information, please visit www.ricoh.com