Patrick Flesch Named to ENX Magazine's 2019 Difference Makers of the Document Technology Universe List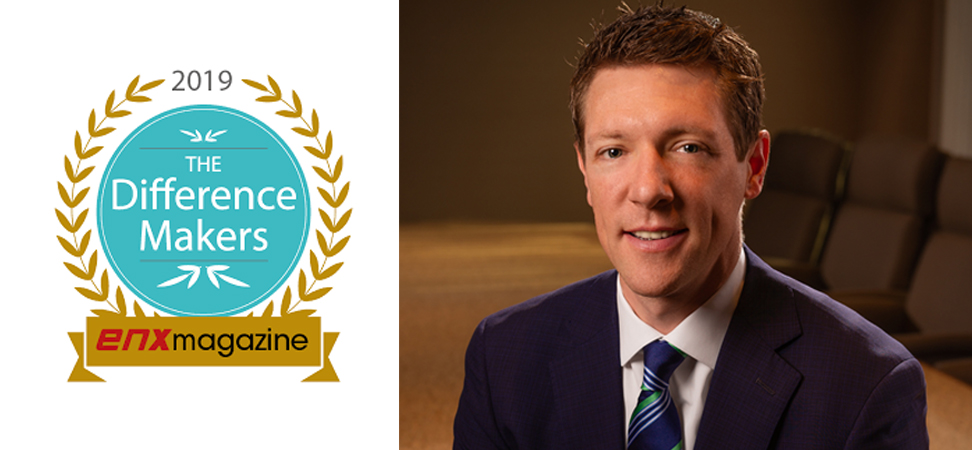 by Gordon Flesch Company, on 05/13/2019
MADISON, WI — May 13, 2019 — Patrick Flesch, President of the Gordon Flesch Company, has been named to the 2019 Difference Makers of the Document Technology Universe List by ENX Magazine.
ENX Magazine is a monthly publication dedicated to the office technology and document imaging industry. Each year, ENX Magazine asks its readers to submit nominations for individuals who fit their definition of Difference Maker, highlighting professionals who have ascended to the highest ranks of the office technology industry. "I can see clearly that Patrick has embraced and enhanced the GFC culture of service excellence established by his grandfather when the company was founded," GFC Marketing Director Connie Dettman told the magazine. "Patrick has extended the culture of doing whatever it takes to meet customers' needs as technology and the business have evolved and increased in complexity."
The annual 2019 Difference Makers of Document Technology list honors the most successful and civic-minded professionals who have made a significant impact on their businesses, customers, co-workers and associates. The winners cover the entire range of the industry's ecosystem, including dealers, suppliers and manufacturers, financial institutions, consultants and service providers.
Patrick's father, Thomas Flesch was recognized for this prestigious award last year. "Being included in the 2019 Difference Makers of Document Technology list is a great honor because it means we are not just successful in our industry, but go about our business in a positive, honorable, and ethical way," says Patrick Flesch, President of the Gordon Flesch Company. "On a personal level, this award means a lot to me because it means I am honoring the legacy of my father and grandfather, who were both recognized as men of integrity and honor by their peers."
To learn more about the 2019 Difference Makers of Document Technology, visit ENX Magazine.
About The Gordon Flesch Company
The Gordon Flesch Company is one of the largest independent providers of office technology solutions in the nation. Family-owned since 1956, the Gordon Flesch Company employs more than 600 people throughout 26 offices in the Midwest, with their corporate office in Madison, Wisconsin. They deliver unique business process expertise to solve challenging problems and achieve organizational goals. This includes integrating industry-leading software and hardware to build custom solutions that are supported by technical expertise, customer service and flexible, in-house financial services. Follow us on Twitter at @GordonFlesch.
About ENX Magazine
ENX Magazine delivers exclusive editorial coverage on market opportunities and issues, news and trends, company profiles, new products, and industry insights through interviews with key players in all segments of the document technology industry. With a circulation of more than 28,000 hard copies, ENX magazine serves as a leading integrated resource that brings together industry people, products, and business concepts and strategies for document technology industry professionals.