Gordon Flesch Company's New myGFC App Delivers 24 x 7 Mobile Customer Support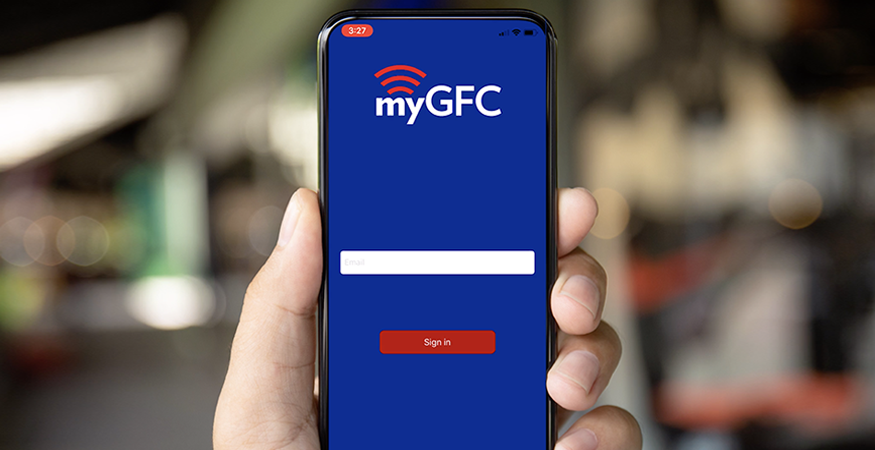 by Gordon Flesch Company, on 03/10/2020
MADISON, WI The Gordon Flesch Company has introduced an all-new service app for customers to manage their GFC printers and copiers and to initiate and track service calls, all from their mobile devices. GFC has already earned the highest customer reviews and service performance metrics in the industry, and thanks to the myGFC app, GFC customers can expect even more responsive and accurate customer service.
The myGFC app is the official support app for GFC printers and copiers, providing up-to-date information on their fleets and helping users set up service calls. It allows GFC customers to have information regarding the status of their equipment at their fingertips and delivers even more responsive service and repair options. GFC customers can download the mobile myGFC app to an Android or Apple device from their device's App Store.
GFC Customer Service in Your Pocket
Once installed, GFC customers simply scan the QR code on any GFC device in their printer fleet. The app will recognize the device and provide information about all printers, copiers and multi-function machines managed by GFC for that customer. If a technician is needed, GFC customers can request a service call and even describe the specific issue they are experiencing through the app. The myGFC app will tell users when technicians have been dispatched and when the field technician completes a service call. Users can even rate the quality of service once completed.
"GFC is extremely proud of the excellent service we provide to our customers as well as our customer retention rate, which is extremely high in our industry," says Jake Gaitan, Director of IT with the Gordon Flesch Company. "But GFC never takes anything for granted and we continually strive to improve and deliver even more advanced technology and customer service capabilities to our customers. The myGFC app is just one example of that commitment to excellent customer service."
The new mobile myGFC app offers GFC customers 24x7 access to tools and information about their printers and copiers. The app allows user to safely and securely navigate through their whole print fleet in a matter of minutes and is an all-in-one hub to manage output devices. The myGFC application is currently supported on iPhone iOS versions 8 and above and updates will continually be provided to ensure the app is secure and up-to-date.
About the Gordon Flesch Company
The Gordon Flesch Company is one of the largest independent providers of office technology solutions in the nation. Family-owned since 1956, the Gordon Flesch Company employs more than 600 people throughout 23 offices in the Midwest, with their corporate office in Madison, Wisconsin. GFC delivers unique business process expertise to solve challenging problems and help achieve organizational goals. This includes integrating industry-leading software and hardware to build custom solutions that are supported by technical expertise, customer service and flexible, in-house financial services. Follow us on Twitter at @GordonFlesch.