Mark Flesch Named to Columbus Business First 40 Under 40 List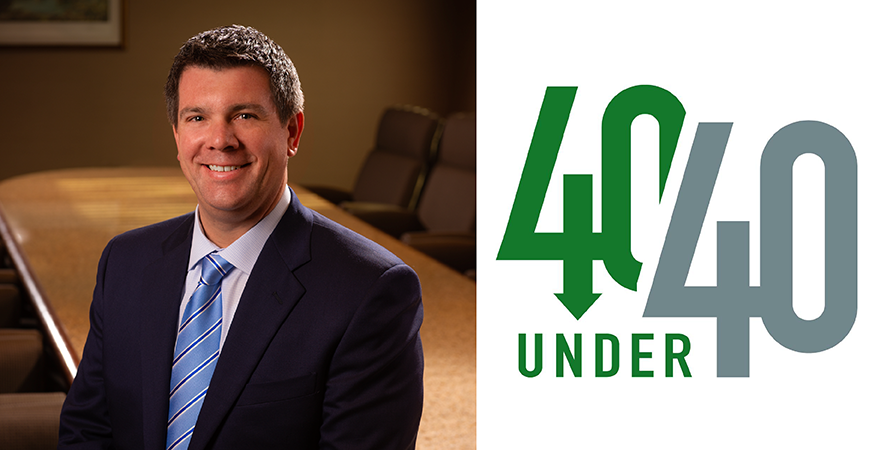 by Gordon Flesch Company, on 04/20/2020
COLUMBUS, OH - Mark Flesch, Chief Operating Officer for the Gordon Flesch Company, has been named to the prestigious Columbus Business First 40 Under 40 list for 2020.
The longest-running awards program at Business First, 40 Under 40 recognizes individuals under the age of 40 who are making great strides as community leaders to shape the future of Central Ohio. The competitive selection process included a record number of nominations, with 227 applications backed by letters of support from esteemed colleagues, friends, and clients.
"For 28 years, Columbus Business First's 40 Under 40 Awards has served as a touchstone of talent for the Central Ohio business community, recognizing an annual class of the region's top young professionals," says Nick Fortine, Publisher and President at Columbus Business First. "We received a record number of nominations for this year's list, making it the most competitive 40 Under 40 list compilations we've ever published. Congratulations to this year's well-deserved award recipients!"
Mark began his career in sales with CH Robinson Worldwide in Chicago, before joining GFC in 2008 as an Account Executive. In 2013 he was promoted to Sales Manager and became the Vice President of Sales – Eastern Region in 2015 where he managed sales operations for branches in Ohio, Milwaukee and Indianapolis. He now serves as the Chief Operating Officer for the company, part of the third generation of the Flesch family to lead the organization.
Throughout his career, Mark has committed himself personally and professionally to both innovating in business as well as supporting the local community. In addition to his role in helping to expand the GFC product portfolio, Mark serves on the Development Board for Dublin Methodist Hospital, raising awareness and funds for many important causes of the hospital. He has also served as a Delivery Volunteer for Meals on Wheels America, delivering meals to Columbus residents on assigned days. In addition, he is a member of the Board of Directors for The Dublin Chamber of Commerce.
Mark has also continued the GFC commitment to providing community support through the Gordon Flesch Charitable Foundation, in addition to providing his personal and corporate presence at events and activities benefiting many local charities. "It's a real honor to be named to this list alongside some of the most impressive and accomplished people in the Columbus area," says Mark Flesch. "I want to help ensure GFC continues to be a vital and innovative part of Columbus' business community and a force for good in the lives of everyone in the areas we serve."
"I am so proud that Mark and I are able to help carry on the legacy of our grandfather, Gordon Flesch," says Patrick Flesch, president of GFC and a recipient of the 2018 40 Under 40 award by Madison's In Business Magazine. "Not many companies can remain family-owned and operated for three generations, but with someone as driven and committed to our success as Mark, I know we can continue to deliver on our company's founding principles."
To learn more about the 2020 40 Under 40 class, visit: https://www.bizjournals.com/columbus/news/2020/04/15/the-business-first-40-under-40-here-are-the-2020.html
About the Gordon Flesch Company
The Gordon Flesch Company is one of the largest independent providers of office technology solutions in the nation. Family-owned since 1956, the Gordon Flesch Company employs more than 600 people throughout 26 offices in the Midwest, with their corporate office in Madison, Wisconsin. They deliver unique business process expertise to solve challenging problems and achieve organizational goals. This includes integrating industry-leading software and hardware to build custom solutions that are supported by technical expertise, customer service and flexible, in-house financial services. Follow us on Twitter at @GordonFlesch.
About Columbus Business First
Columbus Business First is the leading source for business news, data and networking for the Central Ohio area. Content is available through the Weekly Edition, Afternoon and Morning Edition email newsletters, website, social media channels and events and awards programs to gather all the information, insights and connections readers need to succeed in business.