Kelly Glaser Featured in ENX Magazine's "Difference Makers" Issue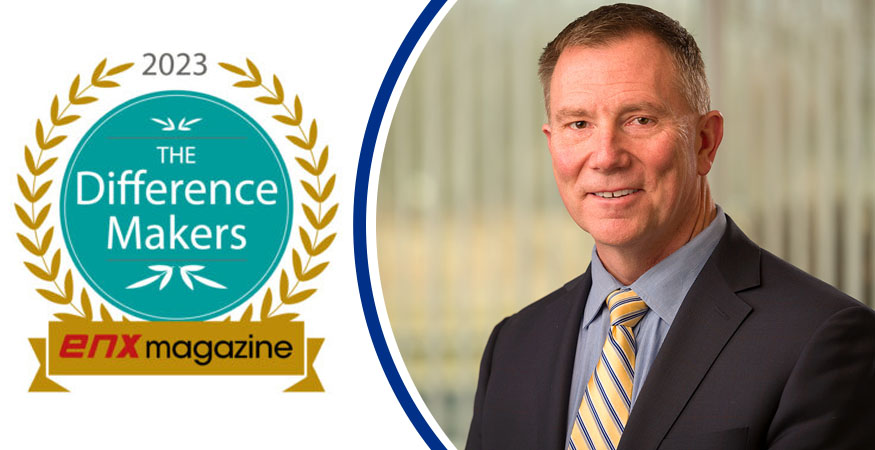 by Gordon Flesch Company, on 05/01/2023
ENX Magazine has revealed its list of Difference Makers for 2023. While the office technology industry is replete with information about products and technology, it's the people behind the scenes who are the true differentiators. They are the ones whose contributions, performances and dedication to uplifting the industry are undeniable and worthy of celebrating.
ENX Magazine asked its readers for nominations and 60 honorees were selected this year to win this prestigious award.
The Gordon Flesch Company (GFC) is proud to announce that one of our own was selected to be a 2023 Difference Maker.
Kelly Glaser
Vice President of Sales & Marketing

Why Kelly Glaser is a Difference Maker:
Over the past 30 years at GFC, Kelly Glaser's creative selling style, constant focus on building culture and his leadership skills have brought new avenues for growth. Kelly joined GFC as an Account Executive and quickly moved up in the ranks of the Sales department becoming a Major Account Executive, Sales Supervisor and then a Sales Manager leading the Milwaukee, Wisconsin team. In 2012, he helped to start and then led GFC's new Appleton, Wisconsin branch before becoming Senior Director of Sales – West Region in 2017. In January 2023, Kelly was promoted to his current role as Vice President of Sales & Marketing where he is leading the charge in discovering new growth verticals and ways to better connect with the needs of GFC's customers and prospects. Kelly is also an army veteran who served as a military police officer and graduated from the University of Wisconsin – Whitewater with a B.S. in Business and Accounting.
"Kelly has played a critical part in designing multiple sales programs and initiatives over the past few years, while also staying very active in the field. He has had a solid impact on the growth of our company since his first day."
– Patrick Flesch, President & CEO, Gordon Flesch Company
For the full list of honorees, read the ENX Magazine 2023 Difference Makers article, Office Industry's Shining Stars.
About Gordon Flesch Company
The Gordon Flesch Company is one of the largest independent providers of office technology solutions in the nation. Family-owned since 1956, the Gordon Flesch Company employs more than 650 people throughout 31 offices in the Midwest, with their corporate office in Madison, Wisconsin. They deliver unique business process expertise to solve challenging problems and achieve organizational goals. This includes integrating industry-leading software and hardware to build custom solutions that are supported by technical expertise, customer service and flexible, in-house financial services. Follow us on Twitter at @GordonFlesch.
About ENX Magazine
ENX Magazine delivers exclusive editorial coverage on market opportunities and issues, news and trends, company profiles, new products, and industry insights through interviews with key players in all segments of the document technology industry. With a circulation of more than 28,000 hard copies, ENX magazine serves as a leading integrated resource that brings together industry people, products, and business concepts and strategies for document technology industry professionals.