The Gordon Flesch Company Announces the Death of John Flesch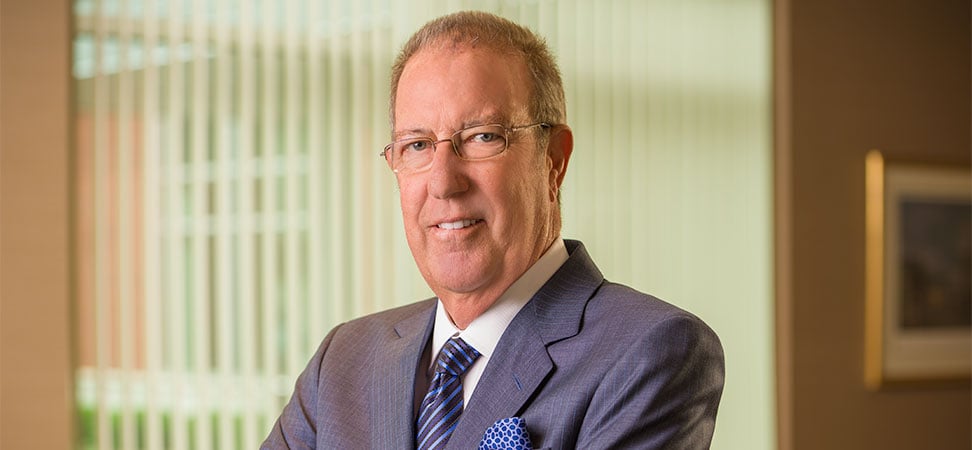 by Gordon Flesch Company, on 04/01/2019
MADISON, WI — April 1, 2019 — It is with great sadness that the Gordon Flesch Company (GFC) must announce the passing of John M. Flesch. John was the son of GFC founder Gordon Flesch and former Vice Chairman of GFC's Board of Directors. But to his family, friends, and colleagues, John was a larger-than-life figure who brought remarkable passion, experience, and energy to everything he did.
"We are heartbroken to share the news that my brother John has passed away," says Tom Flesch, Chairman and CEO at Gordon Flesch Company. "John was more than just part of the GFC legacy, but he was a gregarious, charismatic leader who represented our family superbly throughout his career, both in the office equipment industry, and as a caring and engaged member of our community. He was a loving, caring, and giving man, and my brother will be missed by everyone who benefited from his kindness, friendship and philanthropy."
John Flesch started working with his father and brothers at GFC in 1976. John's outgoing personality and empathetic nature helped him thrive as a leader in GFC's sales and human resources efforts, helping the company to become one of the nation's leading independent office equipment providers. During his time with the company, John helped ensure GFC remain family owned and operated and was a supportive and enjoyable place to work.
As a member of the Madison, Wisconsin community, John served on the board of M&I Bank and was president of the Nakoma Country Club Board. John was a philanthropist and dedicated to his community, supporting local charities including American Family Children's Hospital, Gilda's Club, UW Carbone Cancer Center, PKD Foundation, First Tee, Edgewood High School, Rosie's Garden at St. Mary's Hospital, Fitchburg Community Center, Agrace HospiceCare and University of Wisconsin-Madison.
John passed away on Friday, March 29, 2019, at UW Hospital and Clinics at the age of 67 surrounded by family and friends. "John's passing is much too early and is a huge loss to our immediate family and the entire, extended Gordon Flesch Company family," says Tom Flesch.
About the Gordon Flesch Company
The Gordon Flesch Company is one of the largest independent providers of office technology solutions in the nation. Family-owned since 1956, the Gordon Flesch Company employs more than 600 people throughout 23 offices in the Midwest, with their corporate office in Madison, Wisconsin. They deliver unique business process expertise to solve challenging problems and achieve organizational goals. This includes integrating industry-leading software and hardware to build custom solutions that are supported by technical expertise, customer service and flexible, in-house financial services. Follow us on Twitter at @GordonFlesch.