Gordon Flesch Company Earns Multiple Honda Indirect Procurement Supplier Awards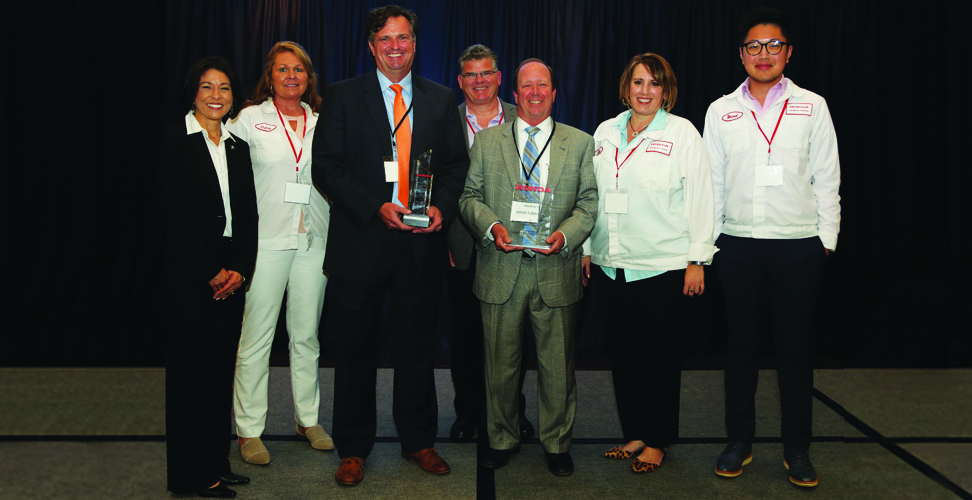 by Gordon Flesch Company, on 06/26/2019
Madison, Wisconsin – The Gordon Flesch Company was honored to receive multiple awards from Honda for products and services delivered to Honda manufacturing plants in North America. This year, GFC was awarded the "Outstanding Value" award and the prestigious "Honda Supplier of the Year" award. The awards were presented at the annual Honda Indirect Procurement Supplier Conference held at the Bridgewater Banquet and Conference Center in Powell, Ohio.
Award-winning suppliers were selected from the more than 2,200 suppliers that provide equipment, products and services to Honda manufacturing plants and corporate functions across North America. The Gordon Flesch Company has previously earned Honda's "Office Products Supplier of the Year" in 2005 and "Special Recognition for Process/Efficiency Improvement" award in 2015. "The Gordon Flesch Company is proud to have been a partner and supplier for Honda for many years," says Doug Gleichauf, Regional Director of Sales and Operations for the Gordon Flesch Company, who accepted the award. "We at the Gordon Flesch Company believe that the key to success is to listen to customers and be as responsive as possible to their needs. This award is a great confirmation that we have been able to do just that, and we look forward to many more years as a valued supplier for Honda."
The indirect suppliers providing parts and services to Honda are local, national and even international in scope, with many having grown up along with the expansion of Honda's production operations in America. Honda will mark 40 years of U.S. production in Sept. 2019. "Our suppliers and business partners make us a stronger company, helping us realize innovation and advancement, by delivering the benefits the marketplace has to offer," said Monica Oliverio, department manager of the North American Indirect Procurement Department at Honda of America Mfg., Inc. "This complimentary and valued relationship is an important part of our mutual success."
About The Gordon Flesch Company
The Gordon Flesch Company is one of the largest independent providers of office technology solutions in the nation. Family-owned since 1956, the Gordon Flesch Company employs more than 600 people throughout 26 offices in the Midwest, with their corporate office in Madison, Wisconsin. They deliver unique business process expertise to solve challenging problems and achieve organizational goals. This includes integrating industry-leading software and hardware to build custom solutions that are supported by technical expertise, customer service and flexible, in-house financial services. Follow us on Twitter at @GordonFlesch.
60th Anniversary of Honda in America
Honda marked its 60th anniversary in America on June 11, 2019, and will reach 40 years of production in America in Sept. 2019. Honda established its first U.S. business operation in Los Angeles, Calif., in 1959. Today, Honda employs more than 31,000 associates in the development, manufacturing, sales and servicing of Honda and Acura automobiles, Honda power equipment and powersports products, the HondaJet advanced light jet and GE Honda HF120 turbofan engines.