Gordon Flesch Charitable Foundation Donates $21,500 to Indianapolis-Area Charities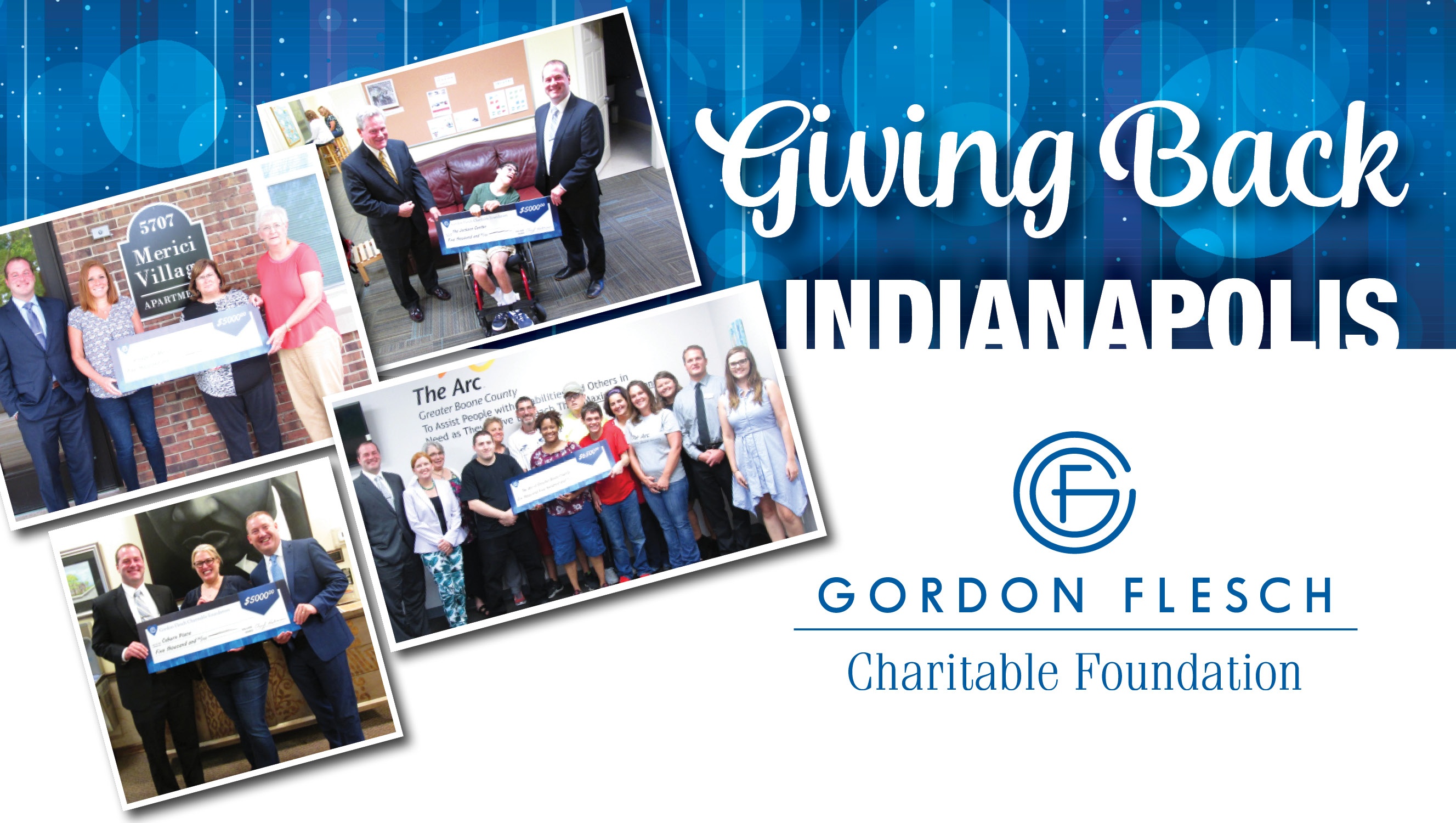 by Gordon Flesch Company, on 10/18/2018
INDIANAPOLIS, IN October 18, 2018 – The Gordon Flesch Charitable Foundation is proud to announce that it has awarded $135,000 and 35 grants to charities throughout the Midwest, including $21,500 to four Indianapolis-area organizations. These grants will help these vital organization continue providing support and non-profit work for their communities. Organizations receiving grants in 2018 include:
Coburn Place http://coburnplace.org/ offers housing and services to survivors of domestic violence. GFC's donation will help support at least 100 children and 70 adults.
Village of Merici http://villageofmerici.org/ provides housing opportunities for adults with developmental disabilities, and GFC's gift will help support programs that help residents develop life skills.
The Arc of Greater Boone County https://thearcgbc.org/ provide services for people with intellectual and developmental disabilities. The funds from GFC will be used to purchase a utility vehicle for the Mainstreet Enterprise's production warehouse.
The Jackson Center http://thejacksoncenter.org/ offers equipment and programs so that motor-challenged children and adults can improve their physical ability and confidence to attain the highest quality of independent life. Our gift will help subsidize the fees families in need pay for the service.
Since its inception in 2002, the Gordon Flesch Charitable Foundation has donated nearly $1.9 million to various philanthropic organizations in Wisconsin, Illinois, Indiana and Ohio. Each year, the foundation donates to the communities within GFC's territories, staying true to founder Gordon Flesch's mission to support the communities where GFC's employees and customers live and work.
Unlike most corporate giving programs, the Gordon Flesch Charitable Foundation is managed entirely by company associates. Each year associates nominate organizations close to their hearts and close to their communities. The foundation's board of directors reviews nominations and selects award recipients.
"The Gordon Flesch Company Foundation was created so that GFC and its employees would have a vehicle to engage with and support the communities we serve," says Cheryl Halverson, President, of the Gordon Flesch Charitable Foundation. "We are proud of the work our people have done and will strive to ensure we remain a vital and active part of our communities. We look forward to helping local non-profits and charitable organizations in all of our markets continue to grow and thrive."
"These charities are chosen by our own employees, so they are very near and dear to us and reflect the civic-minded spirit our founder, Gordon Flesch, hoped his company would embody," said Jill James, Vice President of the Gordon Flesch Charitable Foundation. "We are consistently humbled and impressed by the tremendous work we see each organization continue to do each year and we look forward to see how each organization will use their grant to continue their great work."
If you're interested in learning more about the Gordon Flesch Charitable Foundation, or to apply for the next round of grants, visit our website or download our brochure.
About The Gordon Flesch Company
The Gordon Flesch Company is one of the largest independent providers of office technology solutions in the nation. Family-owned since 1956, the Gordon Flesch Company employs more than 600 people throughout 23 offices in the Midwest, with their corporate office in Madison, Wisconsin. They deliver unique business process expertise to solve challenging problems and achieve organizational goals. This includes integrating industry-leading software and hardware to build custom solutions that are supported by technical expertise, customer service and flexible, in-house financial services.