Gordon Flesch Company Wins 2017 ITEX Perfect Image Award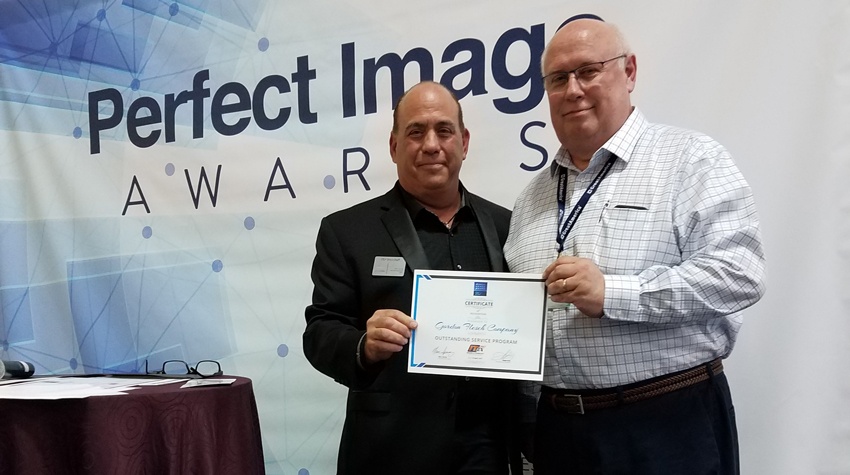 by Gordon Flesch Company, on 04/25/2017
The Gordon Flesch Company (GFC) was presented with a 2017 ITEX Perfect Image Award for Outstanding Service Program by Marc Spring, ITEX founder and Chief Business Officer and owner of Evolved Office and Copylite companies. Spring presented seven awards at the annual ITEX National Conference and Expo on April 19, 2017, which was held at The Mandalay Bay Hotel in Las Vegas, NV.

The ITEX Perfect Image Awards honor exceptional businesses and dealerships that have shown excellence in office technology and document solutions. In particular, the annual PIAs show superior distinctions within well-defined categories, and award consideration is open to independent dealers and solution providers in office technology and workflow solutions.

The award presentation was sponsored by PrintFleet, a leading provider who specializes in data-driven device management and assessment software solutions.

"Each award recipient demonstrated exceptional innovation and outstanding performance," said Spring. "We applaud GFC and all of this year's deserving winners."

"We are very honored to have received this award and that all our hard work to provide the industry's best service has been recognized," said Larry Clark, Vice President of Service at GFC. "60 years ago, Gordon Flesch envisioned his company built on excellent customer service, and I know he would be proud today."

About The Gordon Flesch Company

The Gordon Flesch Company is one of the largest independent providers of office technology solutions in the nation. Family-owned since 1956, the Gordon Flesch Company employs more than 600 people throughout 23 offices in the Midwest, with their corporate office in Madison, Wisconsin. GFC delivers unique business process expertise to solve challenging problems and help achieve organizational goals. This includes integrating industry-leading software and hardware to build custom solutions that are supported by technical expertise, customer service and flexible, in-house financial services. Follow us on Twitter at @GordonFlesch.

About ITEX

ITEX National Conference and Expo is the annual premier event for office technology dealers, resellers, MSPs, VARs, manufacturers, OEMs, and related businesses. In its 17th year, ITEX is the nation's largest event in the office solutions channel. (www.itexshow.com) (954) 903-7900.