Gordon Flesch Company Relaunches Website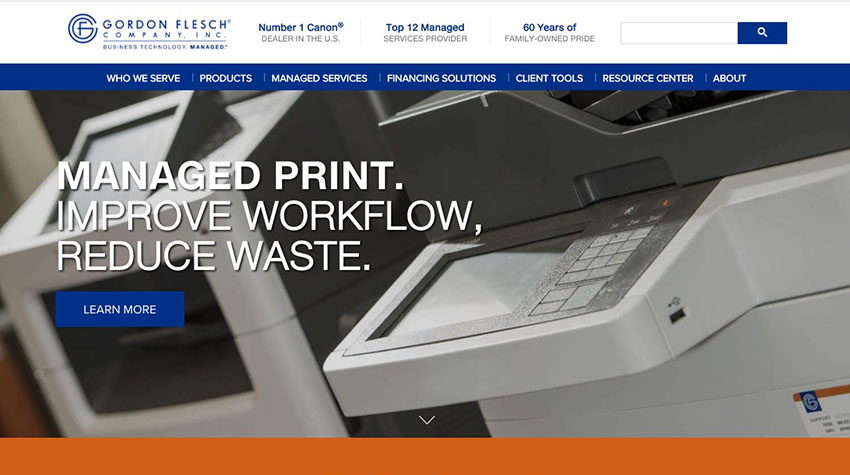 by Gordon Flesch Company, on 11/02/2016
The Gordon Flesch Company, one of the nation's largest independent providers of office technology solutions, is pleased to announce the recent relaunch of their website www.gflesch.com.
"One of the main goals of redesigning the website was to create an enhanced user experience," said Connie Dettman, Director of Marketing. "The new website was created completely with our clients in mind, so they can quickly and easily find the information they need while using any device."
In addition to easier navigation and mobile-friendly pages, the new site features a blog, which provides useful information and insights into the ever-changing technology industry. These blogs are designed to answer any questions subscribers may have about the latest technology trends, from managed print to managed IT services. A new blog is published every week by a GFC executive, so readers will get the very latest information from some of the industry's leading experts.
"So far we have had a lot of positive feedback on the website, both in terms of design and content," said Dettman.
The website also features a redesigned client portal, so customers can continue using this useful and customized tool as their single source for managing their office equipment. All account information is available, from payment activity to supplies ordering and tracking, in this easy-to-access portal. This feature is also designed with clients in mind, helping them be more efficient by eliminating the need to keep track of paperwork, service contracts or phone numbers.
"Since we provide our clients with the most cutting-edge technology to make their businesses more efficient, we upgraded our website to align with this mission," said CEO Tom Flesch. "Each website page and feature can now be found more efficiently, so we can continue delivering the best service to our customers."
For more information and downloadable content that will help your business increase productivity and efficiency, check out the new GFC website here.