GFC Partners With Make-A-Wish® Wisconsin to Make Azman's Wish a Reality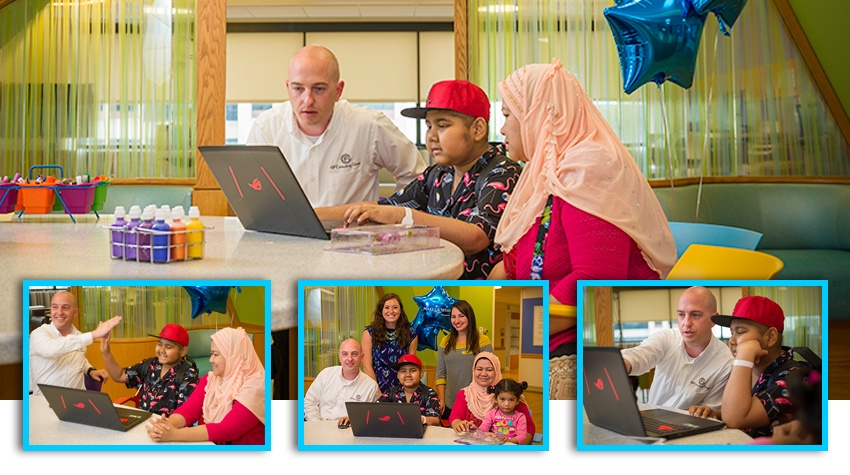 by Gordon Flesch Company, on 07/24/2017
Milwaukee, WI, July 24, 2017 -- The Gordon Flesch Company (GFC) partnered with the Make-A-Wish® Wisconsin to help make Azman's wish come true. Azman, an 11 year-old boy with a life-threatening illness, wanted nothing more than a computer to play the latest video games on. While his mother loved seeing the happiness video games brought Azman, she wanted to ensure he had all the tools necessary to succeed in school. Nick Clark, a Managed IT Support Specialist for GFC, helped strike that perfect balance of fun and learning.
Azman received the latest Asus i7 laptop computer, along with an Epson small-in-one wireless printer, a desk and other peripherals from Make-A-Wish Wisconsin while GFC installed the newest updates, Microsoft Office 365 and the latest games Azman couldn't wait to play. Despite the language barrier, as Azman and his family speak Burmese, Nick and Azman were able to forgo the interpreter and communicate wonderfully, and before long were laughing and high fiving each while playing games.
Nick had an amazing time enhancing Azman's wish by providing the latest technology in games and educational software. "This was an honor, and I was ecstatic to be a part of something so special!" Nick said. The moments they shared together will last a lifetime for Azman, his family and everyone involved. The Gordon Flesch company is proud to support such an amazing cause and help enhance Azman's wish.

About The Gordon Flesch Company
The Gordon Flesch Company is one of the largest independent providers of office technology solutions in the nation. Family-owned since 1956, the Gordon Flesch Company employs more than 600 people throughout 23 offices in the Midwest, with their corporate office in Madison, Wisconsin. GFC delivers unique business process expertise to solve challenging problems and help achieve organizational goals. This includes integrating industry-leading software and hardware to build custom solutions that are supported by technical expertise, customer service and flexible, in-house financial services. Follow us on Twitter at @GordonFlesch.

About Make-A-Wish Wisconsin
Make-A-Wish Wisconsin grants the wishes of children with life-threatening medical conditions to enrich the human experience with hope, strength and joy. Wishes are a special type of medicine that give children a break from doctors' visits, hospital stays and treatments and provide them something positive with which to look forward.
Since the Wisconsin chapter was founded in 1984, more than 6,000 families statewide can attest to the power of a wish. Last year, the chapter granted a record-breaking 378 wishes, and currently more than 350 Wisconsin children are in the process of having their special wishes granted. For more information about Make-A-Wish Wisconsin or to learn how you can make a difference, please call 800.236.WISH or visit www.wisconsin.wish.org.