Gordon Flesch Company Holds Technology Summit at Historic Lambeau Field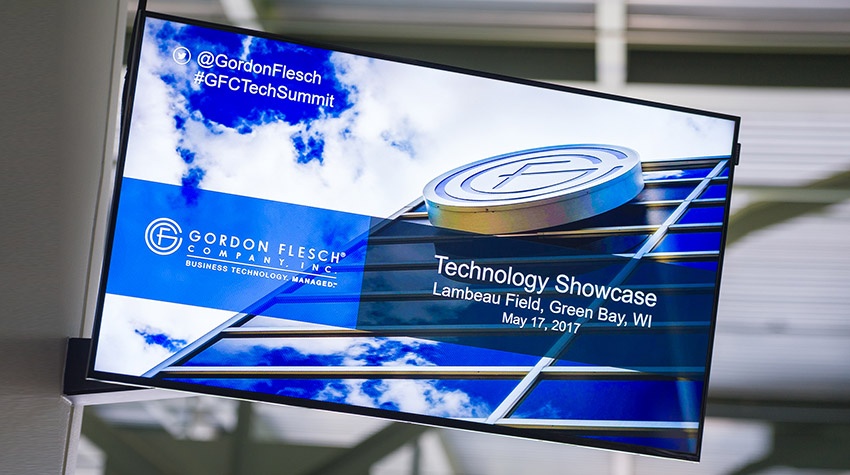 by Gordon Flesch Company, on 05/25/2017
MADISON, WI, May 24, 2017 - The Gordon Flesch Company (GFC) partnered with Canon USA to host a technology summit at historic Lambeau Field on May 17. Special guests included, ESPN radio hosts Jason Wilde & Mark Tauscher and Green Bay Packer's Mike Daniels.
The summit kicked off with a live remote broadcast of the ESPN's Wilde & Tausch Show followed by a GFC welcome from SVP Kelly Moran and VP Patrick Flesch. Guests enjoyed lunch in the North Balcony overlooking the Atrium before touring the stadium and breaking into sessions to learn more about GFC hardware, software and business solutions along with Canon® products.
Sessions included demonstrations of the newest hardware from Canon®, discussions on Managed IT Services, Enterprise Content Management (ECM) and Managed Print Services (MPS).
To complete the day, guests were invited to partake in a Q&A with Wilde, Tauscher and Mike Daniels including an autograph signing and more.
About The Gordon Flesch Company, Inc.
The Gordon Flesch Company is one of the largest independent providers of office technology solutions in the nation. Family-owned since 1956, the Gordon Flesch Company employs more than 600 people throughout 23 offices in the Midwest, with their corporate office in Madison, Wisconsin. GFC delivers unique business process expertise to solve challenging problems and help achieve organizational goals. This includes integrating industry-leading software and hardware to build custom solutions that are supported by technical expertise, customer service and flexible, in-house financial services. Follow us on Twitter at @GordonFlesch.
About Canon U.S.A., Inc.
Canon U.S.A., Inc., is a leading provider of consumer, business-to-business, and industrial digital imaging solutions to the United States and to Latin America and the Caribbean markets. With approximately $29 billion in global revenue, its parent company, Canon Inc. (NYSE:CAJ), ranks third overall in U.S. patents granted in 2016.† Canon U.S.A. is committed to the highest level of customer satisfaction and loyalty, providing 100 percent U.S.-based consumer service and support for all of the products it distributes in the United States. Canon U.S.A. is dedicated to its Kyosei philosophy of social and environmental responsibility. In 2014, the Canon Americas Headquarters secured LEED® Gold certification, a recognition for the design, construction, operations and maintenance of high-performance green buildings. Folllow Canon on Twitter @CanonUSA.