Gordon Flesch Company Celebrates 60 Years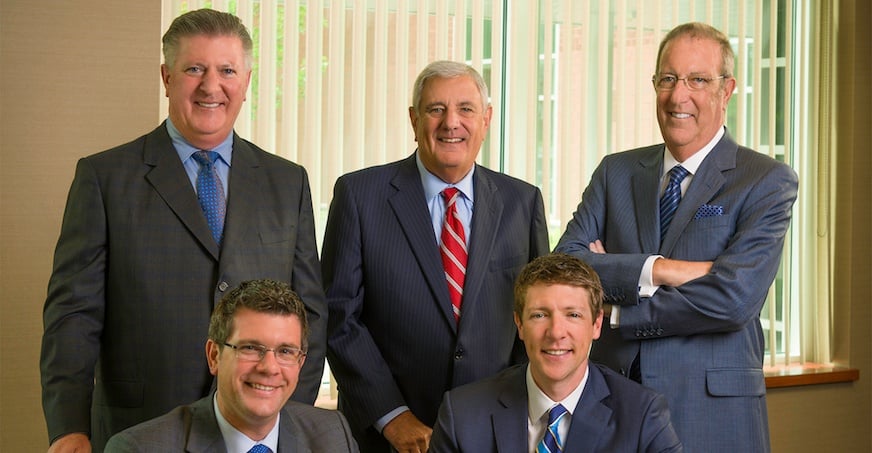 by Gordon Flesch Company, on 08/22/2016
This summer, the Gordon Flesch Company (GFC), industry leader for office technology solutions, celebrates 60 years of exceptional service.
In 1956, Gordon Flesch, previously a salesman for Royal Typewriters, took over a 3M dealership and established the Gordon Flesch Company in Madison, Wisconsin. He had a passion for cuttingedge technology, which at the time included typewriters and copiers, and his mission was to help businesses become more efficient and profitable by utilizing this technology. And while GFC has evolved throughout its 60 years to accommodate the changing needs of customers, this mission, along with the commitment to premier customer service, remains central to the company.
In the 1970s and 1980s, the Gordon Flesch Company expanded throughout Wisconsin, Illinois, Indiana and Ohio, in order to meet growing demands. In 1976, Gordon's son John Flesch joined the company, with his brothers Tom and Bill following shortly thereafter. All three of Gordon's sons are still active in the company. And in 2006 and 2008, the Gordon Flesch Company welcomed the third generation of Flesches into the company, when Gordon's grandsons Patrick and Mark joined GFC.
"I know our father would be pleased with how we've expanded GFC while maintaining all the advantages of a smaller, family-owned company," said Tom Flesch, CEO. "When some companies expand, their customer service may suffer, but we won't let that happen. Our attentiveness to each of our customers is one of our biggest differentiators from others in the industry."
Not only has GFC extended across state lines and three generations, but it has also expanded its reach in other ways, beginning with the establishment of its in-house leasing company. Today, this division of the Gordon Flesch Company, known as GFC Leasing, offers flexible financial solutions for any equipment customers need.
In 2002, with the establishment of the Gordon Flesch Charitable Foundation, GFC employees were able to further reach the community and continue Gordon's commitment to service, not only in terms of business, but also in terms of philanthropy. This foundation, which was established after the events of 9/11, has awarded more than $1.6 million to local charities since its inception.
"We are extremely proud of the Gordon Flesch Charitable Foundation and all the work we've been able to accomplish through the foundation," said John Flesch. "Any GFC employee can submit a local charity important to them to be considered for a grant, so there's a lot of diversity in the types of charities we are involved with, from food banks to children's programs."
In 2015, sales reached $154 million, and yet another division of the Gordon Flesch Company was established, with the creation of GFConsulting Group. GFConsulting Group provides clients with an experienced team of business and technology consultants, who work one-on-one with customers to understand their business goals, whether it be saving money, becoming more environmentallyfriendly or improving workflow and increasing employee productivity. Members of the GFConsulting team will then design an all-encompassing, custom solution leveraging the most efficient and updated technology to accomplish these goals.
"GFConsulting Group is another way we deliver the best service possible," said Bill Flesch. "Oftentimes, our customers have a business problem they don't know how to solve, such as overspending on printing or inefficient employee processes. We sit down with them and figure out exactly how they can overcome that obstacle."
While the Gordon Flesch Company has progressed and expanded throughout its 60 years, Gordon's core mission, values and commitment to excellent customer service remain unchanging.
View the GFC Timeline here and below.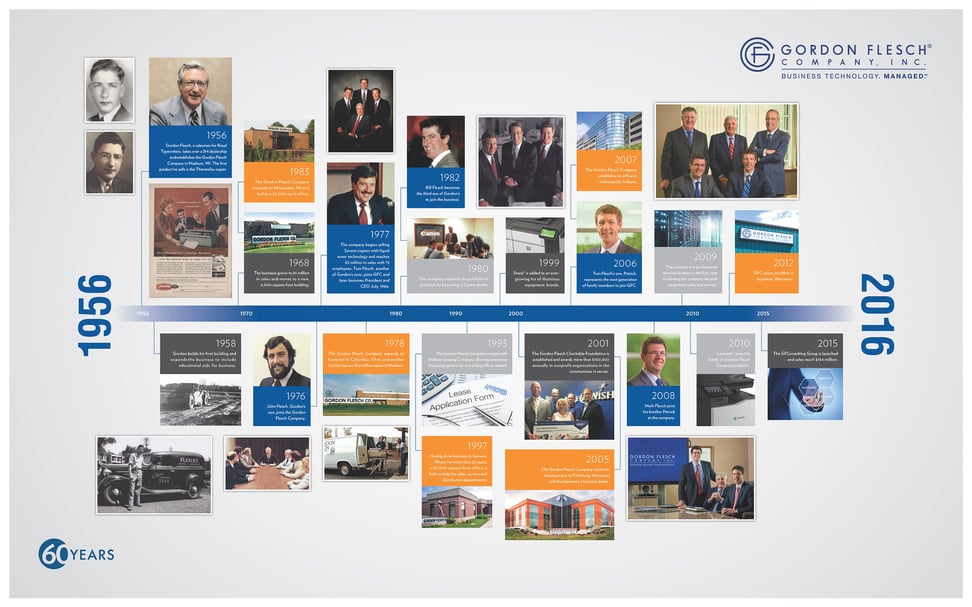 About The Gordon Flesch Company
The Gordon Flesch Company is one of the largest independent providers of office technology solutions in the nation. Family-owned since 1956, the Gordon Flesch Company employs more than 600 people throughout 23 offices in the Midwest, with their corporate office in Madison, Wisconsin. GFC delivers unique business process expertise to solve challenging problems and help achieve organizational goals. This includes integrating industry-leading software and hardware to build custom solutions that are supported by technical expertise, customer service and flexible, in-house financial services. Follow us on Twitter at @GordonFlesch.