Gordon Flesch Charitable Foundation Donates $15,500 to Chicago-Area Charities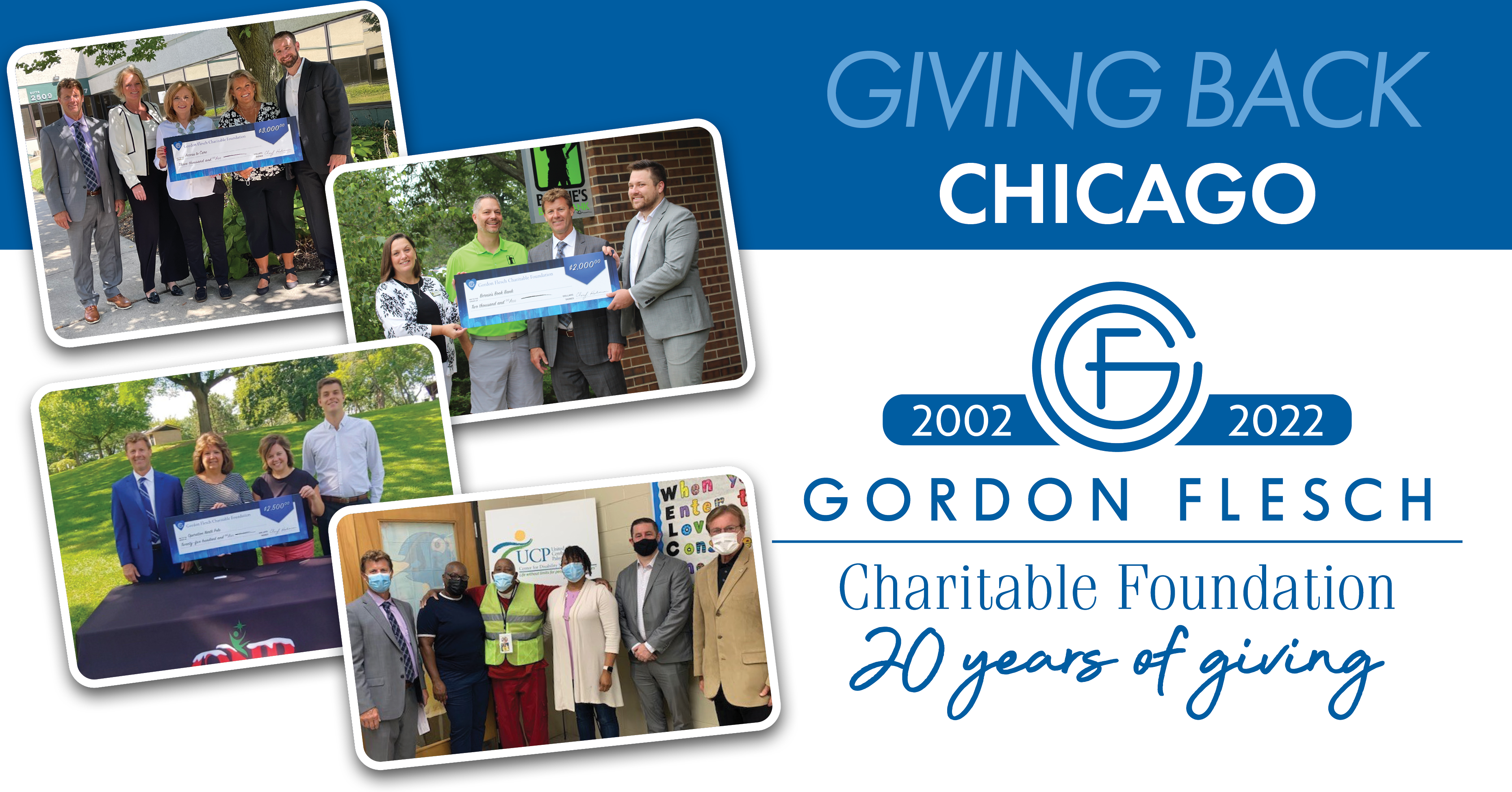 by Gordon Flesch Company, on 10/07/2021
CHICAGO, IL, – The Gordon Flesch Charitable Foundation celebrates its 20-year anniversary by awarding $100,000 and 33 grants to charities throughout the Midwest. This includes donations totaling $15,500 to five Chicago-area organizations providing vital community services.
Since its inception in 2002, the Gordon Flesch Charitable Foundation has donated more than $2.1 million to various philanthropic organizations in Wisconsin, Illinois, Indiana, Iowa, Ohio and South Dakota. The foundation also engages in targeted giving for emergency disaster relief. This included donations to help the Cedar Rapids, Iowa area recover from devastating storms and more than $14,000 to food banks to help with increased demand for services during the COVID-19 pandemic.
Organizations in Chicagoland receiving grants in 2021:
Access to Care is a non-profit primary health care program for residents of suburban Cook County and northwest Chicago who are lower-income, uninsured, and underinsured.
American Red Cross of Greater Chicago serves 7.7 million people in 5 counties in Northern Illinois including Cook, DuPage, Kane, Lake, and McHenry.
Bernie's Book Bank sources, processes and distributes quality new and gently used children's books to increase book ownership among under-served infants, toddlers and school-age children throughout Chicagoland.
Operation North Pole is a volunteer-based public charity that provides a fantasy trip to the North Pole for a family with a child battling a life-threatening illness.
United Cerebral Palsy-Center for Disability Services provides state-of-the-art technology and services for individuals and families impacted with the challenges of disabilities.
The Gordon Flesch Foundation Story
The Gordon Flesch Company (GFC) has long engaged in charitable giving and philanthropy whenever possible. But following the September 11, 2001 attacks, Gordon Flesch's personal spirit of generosity became something more formal and enduring. The company decided to forego its annual employee recognition dinners and use those funds to help the families of first responders from the New York City police and fire departments. This effort, led by Gordon's sons, marked the beginning of what would become the Gordon Flesch Charitable Foundation.
Unlike most corporate giving programs, the Gordon Flesch Charitable Foundation is managed entirely by company associates. Each year associates nominate organizations close to their hearts and close to their communities. The foundation's board of directors reviews nominations and selects award recipients.
"Over the past twenty years, the Gordon Flesch Foundation has built countless legacies and invested millions of dollars into programs that help make our communities more wonderful places to live, work and raise a family," says Cheryl Halverson, President of the Gordon Flesch Charitable Foundation. "It's an incredible legacy, but one we hope to build on and grow into something even bigger."
"The greatest impact of being involved with the Gordon Flesch Foundation has been reinforcing the importance of doing good, yet continually striving to do even better," said Tammy Bedard, Vice President of the Gordon Flesch Charitable Foundation. "It is exciting to see all of the great work we see each organization continue to do each year and to look forward to helping them continue to make a positive impact in the lives of more people."
If you're interested in learning more about the Gordon Flesch Charitable Foundation, or to apply for the next round of grants, visit our website or download our brochure.
About Gordon Flesch Company
The Gordon Flesch Company is one of the largest independent providers of office technology solutions in the nation. Family-owned since 1956, the Gordon Flesch Company employs more than 600 people throughout 23 offices in the Midwest, with their corporate office in Madison, Wisconsin. They deliver unique business process expertise to solve challenging problems and achieve organizational goals. This includes integrating industry-leading software and hardware to build custom solutions that are supported by technical expertise, customer service and flexible, in-house financial services.