Gordon Flesch Charitable Foundation Donates $13,000 to Iowa-Area Charities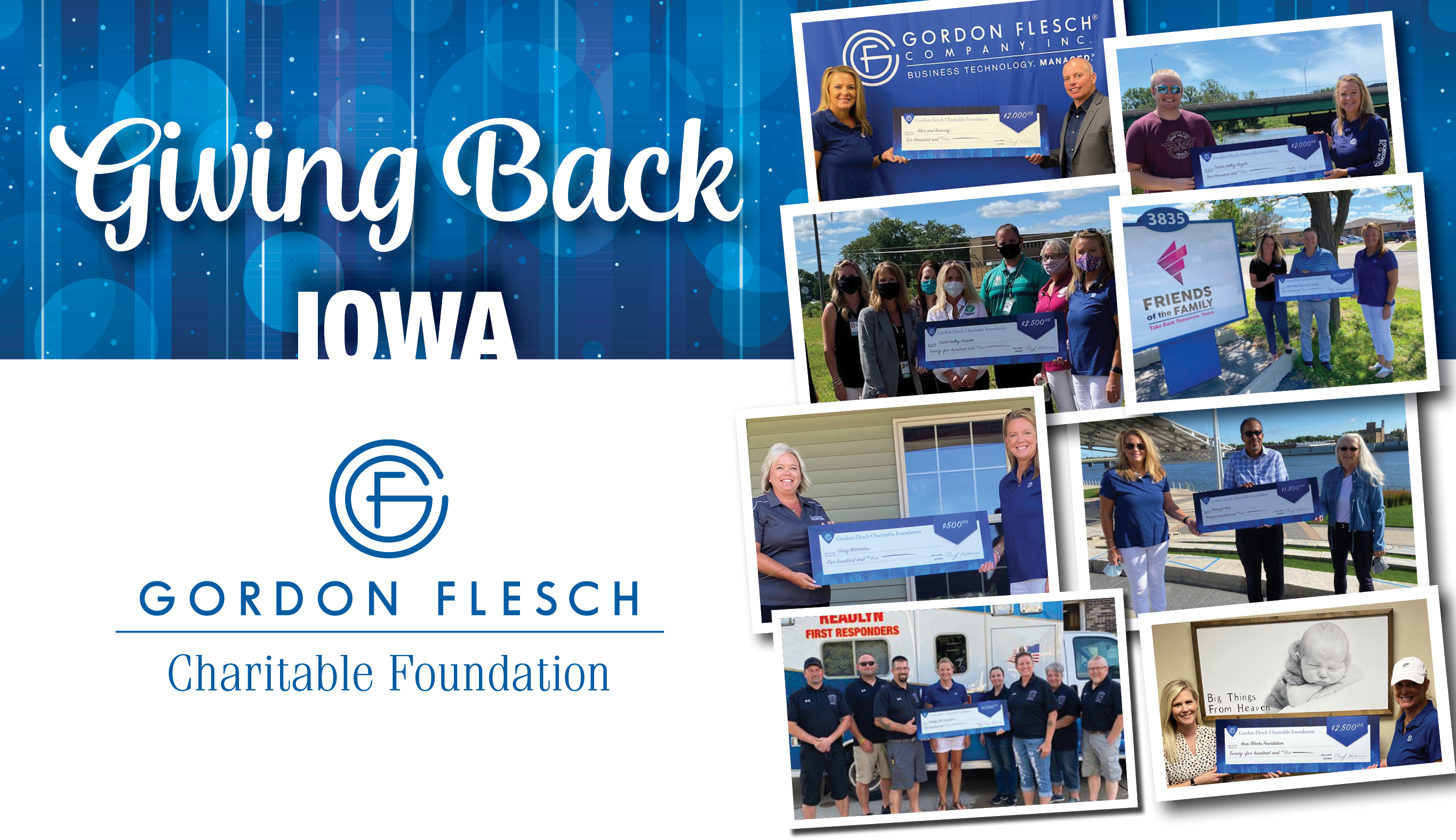 by Gordon Flesch Company, on 10/28/2020
The Gordon Flesch Charitable Foundation is proud to announce that it has awarded $84,000 to 37 organizations in Wisconsin, Indiana, Ohio, Iowa and Illinois in 2020. This includes $13,000 to seven Cedar Falls, Iowa-area non-profit organizations so that they can continue providing services and support for members of the community in need.
GFC's founder, Gordon Flesch, understood businesses could only thrive if the communities that surround them were also thriving. That spirit of charitable giving carries on in the form of annual contributions to non-profits located in the communities where our customers live, work and play. In all, donations exceed $2 million since the foundation's inception in 2002.
2020 has been a difficult and trying year for people in all our communities, and the Gordon Flesch Charitable Foundation has responded with more timely and targeted donations. Unlike years past, the Foundation has not confined its giving to a single period but has also donated money and volunteer efforts as emergencies arose. For example, the Foundation donated $5,000 in emergency disaster relief via the non-profit Eight Days of Hope organization to help the Cedar Rapids area recover from recent storms and $14,000 to food banks across the Midwest to help with increased demand for services as a result of COVID-19 Coronavirus.
This is the first year the Gordon Flesch Foundation has donated in Iowa since acquiring Advanced Systems, Inc. (ASI) in Cedar Falls, IA just over a year ago. Iowa-based organizations receiving grants in 2020 include:
Alive and Running (https://www.aliveandrunningiowa.com/) operates a multilingual Suicide Crisis Line, one of the largest in the nation. GFC's donation will help buy new iPads and other technology needs as well as basic food staples for patients who are homeless.
Cedar Valley Angels (https://www.cedarvalleyangels.org/) supports children and caregivers in the foster care system with emotional, educational and other support programs. This donation will provide support for onboarding new families, training and background checks.
Cedar Valley Friends of the Family (https://www.fofia.org/) provides safe shelter, confidential services, and housing assistance to individuals in crisis due to homelessness, domestic violence, sexual assault, and human trafficking. Funds received through the grant will be used to provide medium-long term rental assistance using progressive engagement techniques.
Cedar Valley Hospice (https://www.cvhospice.org/) is a not-for-profit hospice and palliative care provider serving 15 counties with offices in Waterloo/Cedar Falls, Grundy Center, Independence and Waverly, Iowa. Donations will assist low income patients and families with support they do not otherwise receive from Medicare/Medicaid or private insurance coverages.
Gray Warriors (https://graywarriors.org/) organization provides grants to those in need during treatment and provides support for individuals suffering from brain cancer/tumors. The group plans to purchase gift cards, supplies, baby sitting and other support for patients and families.
Knox Blocks Foundation (https://www.knoxblocks.org/) raises money to purchase Owlet Smart Socks which are worn by infants to track their oxygen level and heart rate.
Koats 4 Kids (https://www.facebook.com/Koats4Kids.Waterloo/) provides new, warm winter coats and boots for children in need from the Cedar Valley area. Donations will help with additional requests this year as many additional people are unemployed and in need.
Readlyn EMS Association (https://www.facebook.com/readlynvfd/) supports the emergency and rescue services to the citizens of Readlyn, IA, and surrounding areas. The association is hoping need to purchase a new heart monitor/AED to provide patient care in emergent situations.
Since its inception in 2002, the Gordon Flesch Charitable Foundation has donated more than $2 million to various philanthropic organizations in Wisconsin, Illinois, Indiana, Ohio and, beginning this year, Iowa. Each year, the foundation donates to the communities within GFC's territories, staying true to founder Gordon Flesch's mission to support the communities where GFC's employees and customers live and work.
Unlike most corporate giving programs, the Gordon Flesch Charitable Foundation is managed entirely by company associates. Each year associates nominate organizations close to their hearts and close to their communities. The foundation's board of directors reviews nominations and selects award recipients.
"We are proud that the Gordon Flesch Company Foundation has been a steady and reliable presence in our communities for many years," says Cheryl Halverson, President, of the Gordon Flesch Charitable Foundation. "But given the unusual and challenging year we are facing; I am especially proud to be able to say the Foundation has also been flexible and generous in an emergency. We hope to be able to continue providing emergency assistance as well as much-needed grants for many years to come."
"While there has been an overwhelming amount of generosity during this pandemic, we know that social services and charitable organizations are struggling to keep up with increased needs for their services," says Jackie Shultz, Secretary of the Gordon Flesch Charitable Foundation. "We are proud to be able to carry on the mission of the Gordon Flesch Charitable Foundation and are humbled to play a small part in the important work these organizations perform for our communities."
If you're interested in learning more about the Gordon Flesch Charitable Foundation, or to apply for the next round of grants, visit our website or download our brochure.
About The Gordon Flesch Company
The Gordon Flesch Company is one of the largest independent providers of office technology solutions in the nation. Family-owned since 1956, the Gordon Flesch Company employs more than 600 people throughout 23 offices in the Midwest, with their corporate office in Madison, Wisconsin. They deliver unique business process expertise to solve challenging problems and achieve organizational goals. This includes integrating industry-leading software and hardware to build custom solutions that are supported by technical expertise, customer service and flexible, in-house financial services.