GFConsulting Customer Halquist Stone Company Wins Run Smarter Award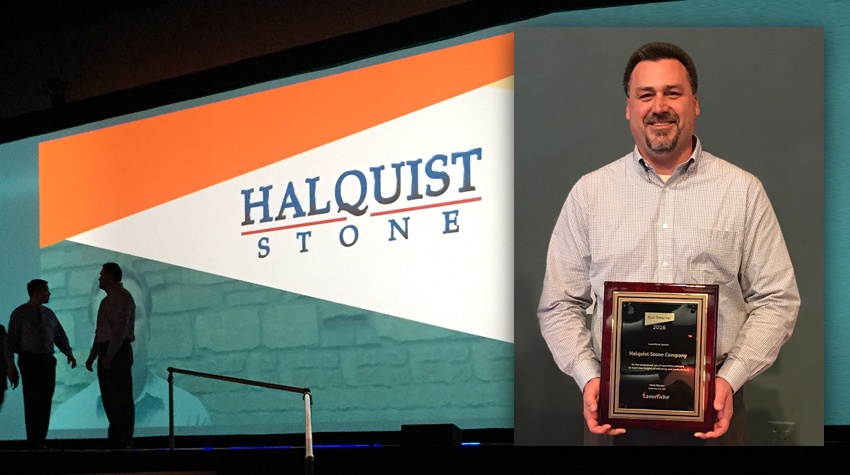 by Gordon Flesch Company, on 03/07/2017
At this year's Empower Conference, Halquist Stone Company was honored with Laserfiche's prestigious Run Smarter Award. This award is presented to organizations that most effectively use Laserfiche Enterprise Content Management (ECM) to improve productivity, innovate processes and achieve exceptional business results.
Halquist Stone Company is a customer of GFConsulting Group, a branch of the Gordon Flesch Company. Established in 1929, Halquist Stone is a Wisconsin-based company whose full line of building and landscape stone is distributed nationally.
"By automating key business processes, Halquist Stone Company has realized tremendous benefits," said Chris Wacker, CEO of Laserfiche. "This Run Smarter Award winner's initiatives enable a truly digital workplace, demonstrating commitment to employees and those they serve."
After implementing Laserfiche as part of GFConsulting's custom solution, Halquist Stone has saved roughly $120,000 annually, as well as 3,000 hours of employee time spent on data entry. Among other processes, their sales order process has greatly improved since using Laserfiche, as orders are sent electronically using Laserfiche Forms. With the digitized forms, production and delivery time are now much quicker processes, and customers receive their orders within days instead of weeks.
"Since using Laserfiche, we have noticed significant improvements to customer service, along with minimizing employee frustration while maximizing efficiency," said Halquist Stone CPA Wade Balson. "Winning this award is validation that we have leveraged our enterprise content management solution to its full capabilities, and we are excited to be recognized."
"We are very pleased that Halquist Stone was recognized this year for their exceptional use of Laserfiche," said GFConsulting Director Jeff Dotzler. "Halquist Stone is very deserving of the Run Smarter Award, and they have had incredible results after implementing Laserfiche- from improved efficiency and customer service to impressive annual cost savings."
About The Gordon Flesch Company
The Gordon Flesch Company is one of the largest independent providers of office technology solutions in the nation. Family-owned since 1956, the Gordon Flesch Company employs more than 600 people throughout 23 offices in the Midwest, with their corporate office in Madison, Wisconsin. GFC delivers unique business process expertise to solve challenging problems and help achieve organizational goals. This includes integrating industry-leading software and hardware to build custom solutions that are supported by technical expertise, customer service and flexible, in-house financial services. Follow us on Twitter at @GordonFlesch.
About Laserfiche

Laserfiche Enterprise Content Management transforms how organizations manage information, automate document-driven business processes and make timely, informed decisions. Using Laserfiche, organizations can innovate how documents and unstructured information are processed and analyzed to achieve business results. Laserfiche provides intuitive solutions for capture, electronic forms, workflow, case management, cloud, mobile and government-certified records management. Since 1987, Laserfiche has been the trusted choice of more than 35,000 organizations worldwide. For more information, visit www.laserfiche.com or follow Laserfiche on Twitter, LinkedIn, Facebook and Google+.