Gordon Flesch Company Receives Milestone Achievement Award from Conway Center for Family Business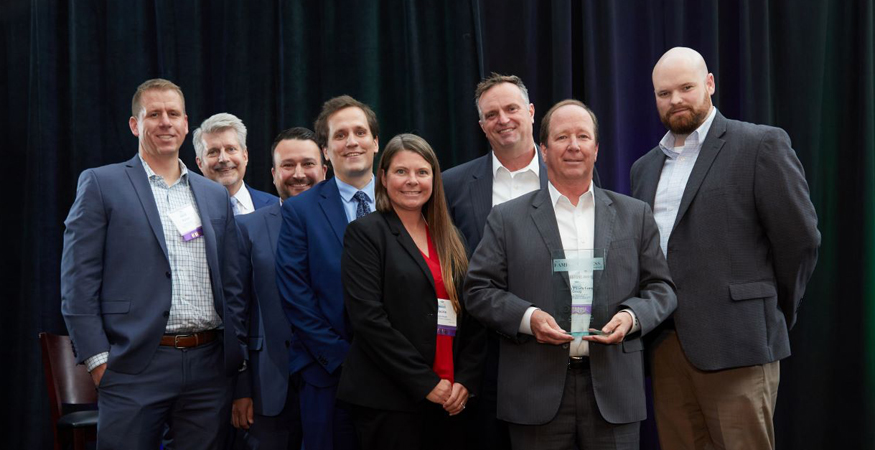 by Gordon Flesch Company, on 11/29/2021
COLUMBUS, OH – The Gordon Flesch Company (GFC) was honored Wednesday, November 10 at the Conway Center for Family Business' 23rd Annual Family Business Awards program with the Milestone Achievement award. This special award recognizes GFC for reaching its 65th anniversary as a family-owned company.
The Family Business Awards program was established in 1998 to recognize excellence in family business in categories such as Community Engagement, Milestone Achievement, Re-Invention and Succession Planning.
"Family businesses are the backbone of the American economy and are vital to the Central Ohio economy and community," said Julie Collinsworth, executive director of the Conway Center for Family Business. "The Gordon Flesch Company, through its continued success and resiliency through a year filled with challenges, stands out among its peers and deserves this recognition of longevity."
"The past few years have demonstrated that locally-based, family-owned businesses are vitally important to the communities they serve," says Doug Gleichauf, Regional Director of Sales and Operations for the Ohio branch. "I am proud that GFC is not only an established and respected part of the Central Ohio business community, but that we have been able to help our friends, partners and customers succeed and thrive as well."
In addition to celebrating 65 years in business, GFC is also pleased to note that the third generation of Flesch family members has stepped up to help lead the company, one of the nation's largest privately held providers of business technology solutions. The Conway Center for Family Business notes that while more than 30% of all family-owned businesses make the transition into the second generation, only 12% will still be viable into the third generation.
The Family Business Awards Program is made possible through the generous support of Columbus CEO, First Merchants, Gryphon Financial Partners, Taft/, Morgan Stanley and Rider + Reinke Financial Group.
About Gordon Flesch Company
The Gordon Flesch Company is one of the largest independent providers of office technology solutions in the nation. Family-owned since 1956, the Gordon Flesch Company employs more than 620 people throughout 31 offices in the Midwest, with their corporate office in Madison, Wisconsin. They deliver unique business process expertise to solve challenging problems and achieve organizational goals. This includes integrating industry-leading software and hardware to build custom solutions that are supported by technical expertise, customer service and flexible, in-house financial services. Follow us on Twitter at @GordonFlesch.
About Conway Center for Family Business
The non-profit Conway Center for Family Business is Central Ohio's resource for educational programs, resources, and networking opportunities to support the growth and success of family-owned businesses. The Center celebrates the successes of family-owned businesses at its annual awards program and offers peer group opportunities for next-generation leaders, family business leaders, and women family business owners. The organization includes more than 200 family-owned businesses from Central Ohio ranging in size from three to more than 20,000 employees.