Gordon Flesch Company on Wisconsin 75 List for 12th Year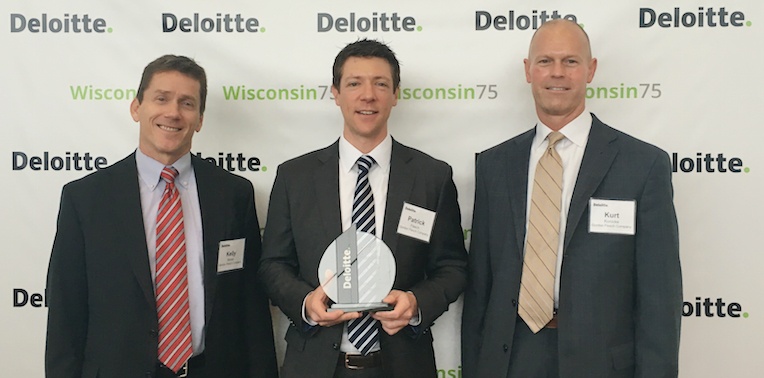 by Gordon Flesch Company, on 10/07/2016
The Gordon Flesch Company is featured on the 2016 Deloitte Wisconsin 75 List, making this the twelfth year they have been highlighted in this ranking of the state's largest private companies.
The annual Wisconsin 75 list recognizes Wisconsin companies that play a critical role in Wisconsin's economy and communities, and promote growth and innovation throughout the state.
In order to qualify, a company must be privately-held and headquartered in Wisconsin. Although sales revenue is a large component in the ranking, Deloitte also highlights companies who emphasize giving back to the community through grants and volunteer efforts.
The Gordon Flesch Charitable Foundation has donated more than $1.6 million since its inception in 2002, and in 2016, the foundation donated $125,000 to local charities.
"We are very honored to be part of the Wisconsin 75 List again this year," said Tom Flesch, CEO. "As the largest independent dealer of business technology in the state of Wisconsin, we strive to provide the best office equipment and managed IT services to our customers in the Madison, Milwaukee and Appleton areas."
The complete list is available here.
About The Gordon Flesch Company
The Gordon Flesch Company is one of the largest independent providers of office technology solutions in the nation. Family-owned since 1956, the Gordon Flesch Company employs more than 600 people throughout 23 offices in the Midwest with their corporate office in Madison, Wisconsin. They deliver unique business process expertise to solve challenging problems and help achieve organizational goals. This includes integrating industry-leading software and hardware to build custom solutions that are supported by technical expertise, customer service, and flexible, in-house financial services. Follow us on Twitter at @GordonFlesch.
About Deloitte

Deloitte refers to one or more of Deloitte Touche Tohmatsu Limited, a UK private company limited by guarantee ("DTTL"), its network of member firms and their related entities. Under Deloitte, thousands of dedicated professionals throughout the world collaborate to provide audit, consulting, financial advisory, risk management, tax and related services to select clients.