Gordon Flesch Company Welcomes Attendees to Technology Summit at Historic Lambeau Field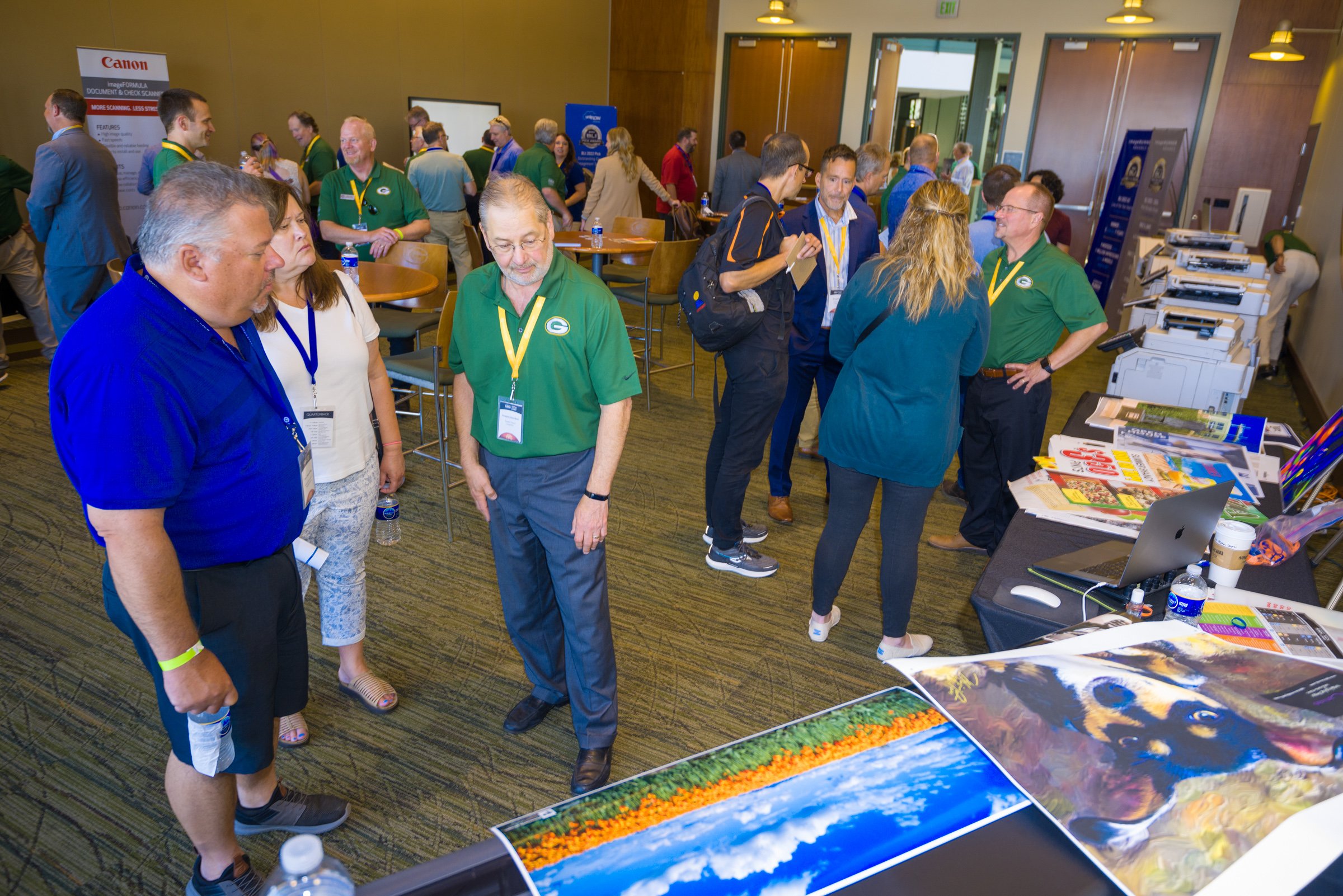 by Gordon Flesch Company, on 07/21/2022
More than 200 guests attended the Tech Summit at Lambeau Field on June 16, 2022, to view the latest business technology and meet Packer legend Ahman Green.
MADISON, WI - The Gordon Flesch Company (GFC) hosted a technology summit at historic Lambeau Field on June 16. Canon U.S.A., Inc., a leader in digital imaging solutions was in attendance. The event included a special appearance by former Packer running back Ahman Green.
The summit kicked off with a welcome from Patrick Flesch, President of GFC, followed by lunch in the atrium and an hour-long guided tour of Lambeau Field. The tour included a stop in the newly named Gordon Flesch Company Terrace Suites and a trip through the players' tunnel with guests emerging onto the field.
Following the tour, attendees visited educational sessions to learn more about GFC hardware, software and business solutions as well as Canon products.
Sessions included demonstrations of some of the latest hardware from Canon, discussions on Elevity's Technology Management, Enterprise Content Management (ECM) and Managed Print Services (MPS).
Attendees were treated to a visit from Ahman Green, a four-time Pro Bowler, to close the event. During the session, which was sponsored by Arctic Wolf®, Elevity's cybersecurity partner, Green answered questions from the attendees and signed memorabilia for the audience.
"The Gordon Flesch Company put on a terrific event and Canon was appreciative of the opportunity to give demonstrations of our solutions and products," said Mason Olds, senior vice president and general manager, Canon U.S.A., Inc. "We have worked with GFC for many years and look forward to many more events like these in the future."
About Gordon Flesch Company, Inc. 
The Gordon Flesch Company is one of the largest independent providers of office technology solutions in the nation. Family-owned since 1956, the Gordon Flesch Company employs more than 600 people throughout 32 offices in the Midwest, with their corporate office in Madison, Wisconsin. They deliver unique business process expertise to solve challenging problems and achieve organizational goals. This includes integrating industry-leading software and hardware to build custom solutions that are supported by technical expertise, customer service and flexible, in-house financial services. Follow us on Twitter at @GordonFlesch. 

About Canon U.S.A., Inc.
Canon U.S.A., Inc., is a leading provider of consumer, business-to-business, and industrial digital imaging solutions to the United States and to Latin America and the Caribbean markets. With approximately $30.6 billion in global revenue, its parent company, Canon Inc. (NYSE:CAJ), as of 2021 has ranked in the top-five overall in U.S. patents granted for 36 consecutive years† and was one of Fortune Magazine's World's Most Admired Companies in 2022. Canon U.S.A. was featured in Newsweek's Most Loved Workplaces list for 2021, ranking among the top 100 companies for employee happiness and satisfaction at work. Canon U.S.A. is dedicated to its Kyosei philosophy of social and environmental responsibility. To keep apprised of the latest news from Canon U.S.A., sign up for the Company's RSS news feed by visiting www.usa.canon.com/rss and follow us on Twitter @CanonUSA.

† Number of patents for 2021 are based on figures released by IFI CLAIMS Patent Services. Figures for 2005 to 2020 are based on information issued by the United States Patent and Trademark Office.

About Arctic Wolf
Arctic Wolf is the global leader in security operations, delivering the first cloud-native security operations platform to end cyber risk. Powered by threat telemetry spanning endpoint, network, and cloud sources, the Arctic Wolf® Security Operations Cloud ingests and analyzes trillions of security events each week to enable critical outcomes for most security use cases. The Arctic Wolf® Platform delivers automated threat detection and response at scale and empowers organizations of any size to stand up world-class security operations with the push of a button. Visit arcticwolf.com or follow us on Twitter at @AWNetworks.