Gordon Flesch Company Honored as the Highest-Earning Canon Dealership in the United States for Seven Years Running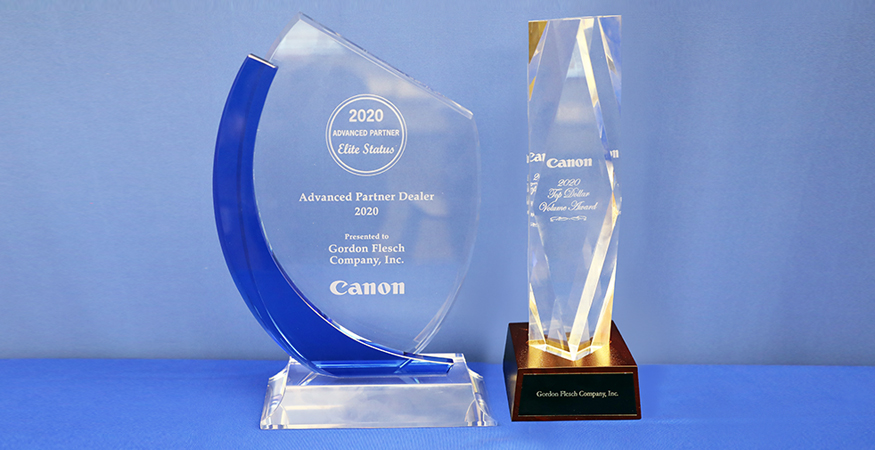 by Gordon Flesch Company, on 08/04/2021
The Gordon Flesch Company (GFC) is honored to receive the Canon U.S.A. Top Dollar Volume Award – Seven Consecutive Years Award. This special award recognizes the Gordon Flesch Company's position as the nation's largest independent dealership of Canon office technology hardware from 2014 through 2020.
The Gordon Flesch Company, one of the nation's leading independent providers of office technology, is proud to accept this award, which recognizes the company as Canon U.S.A.'s highest-earning independent dealer. While there was no official award given in 2020 during the pandemic, this trophy confirms GFC has retained this title for seven consecutive years. "I am thrilled to once again be able to congratulate the Gordon Flesch Company for not only maintaining its momentum during uncertain times, but for continuing to innovate and expand into new markets," says Mason Olds, Senior VP & General Manager at Canon U.S.A. "GFC is an ideal partner, and I am excited for the continued opportunities that we can expect together for years to come."
Family-owned for 65 years, GFC first partnered with Canon in 1980 and has been the top-selling independent Canon dealer in the nation for many of those years. In addition, GFC is honored to have earned Elite Status in Canon's Advanced Partner Program, which ensures the company can offer the best pricing, product availability, training, technical support and more to its Canon customers. With over 162 Canon-certified service engineers on staff, customers can count on Canon and GFC to deliver the best hardware and software in the industry. "Canon U.S.A. and the Gordon Flesch Company make a great team because we both believe in building long-term, mutually beneficial relationships with our customers and business partners," says Patrick Flesch, President of Gordon Flesch Company, "As a global brand, Canon delivers innovation, quality and service while ensuring its dealer channel is able to thrive and grow. It has been a great relationship and we look forward to many years of continued growth and excellence."
About Gordon Flesch Company
The Gordon Flesch Company is one of the largest independent providers of office technology solutions in the nation. Family-owned since 1956, the Gordon Flesch Company employs more than 620 people throughout 31 offices in the Midwest, with their corporate office in Madison, Wisconsin. They deliver unique business process expertise to solve challenging problems and achieve organizational goals. This includes integrating industry-leading software and hardware to build custom solutions that are supported by technical expertise, customer service and flexible, in-house financial services. Follow us on Twitter at @GordonFlesch.
About Canon U.S.A.
Canon U.S.A., Inc., is a leading provider of consumer, business-to-business, and industrial digital imaging solutions to the United States and to Latin America and the Caribbean markets. With approximately $36 billion in global revenue, its parent company, Canon Inc. (NYSE:CAJ), ranks third overall in U.S. patents granted in 2017† and is one of Fortune Magazine's World's Most Admired Companies in 2018. Canon U.S.A. is committed to the highest level of customer satisfaction and loyalty, providing 100 percent U.S.-based service and support for all of the products it distributes in the United States. Canon U.S.A. is dedicated to its Kyosei philosophy of social and environmental responsibility.