The Gordon Flesch Company Named to Deloitte's Wisconsin 75 for the 14th Year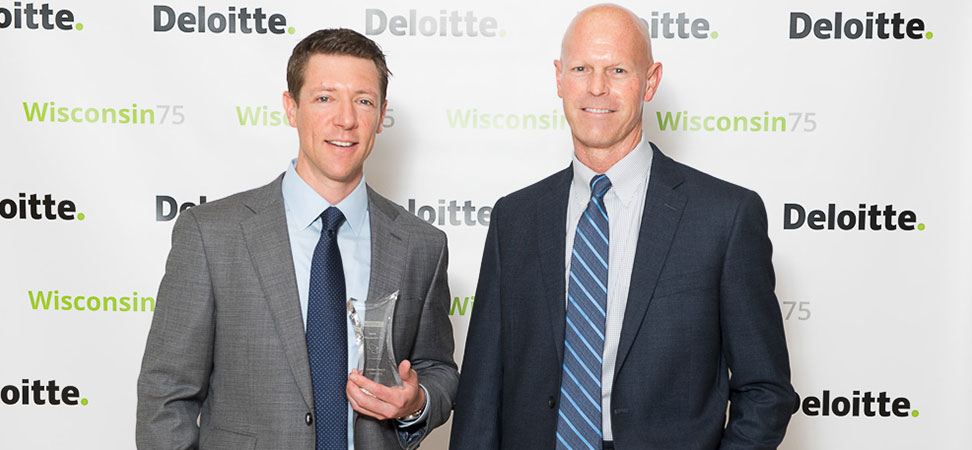 by Gordon Flesch Company, on 11/07/2018
MILWAUKEE, WI, September 07, 2018 – Joining such Wisconsin-based luminaries as the Trek Bicycle Corporation and Miron Construction, the Gordon Flesch Company once again earned a place on the 2018 Deloitte Wisconsin 75 List. GFC has been on the list for fourteen consecutive years, and currently ranks at number 67 on this annual ranking of the state's largest privately- and closely- held companies.
Companies in the private sector play a key role in powering Wisconsin's economy and communities. For the 16th year, the annual Wisconsin 75 list, co-sponsored by the Milwaukee Journal Sentinel, recognized 75 of the largest and most successful private companies for the impact they make. The list's rankings are calculated based on voluntarily reported revenue and includes many of the biggest and most recognizable companies in the state as well as some lesser-known, but fast-growing entities.
In order to qualify, a company must be privately-held and headquartered in Wisconsin, and the list is intended to highlight companies that not only play a critical role in Wisconsin's economy and communities but also promote growth and innovation throughout the state.
"Being recognized once again by the Wisconsin 75 list is a such a great honor because this award is not just a reflection of a company's financial success, but also of that company's dedication and engagement in our community and home state," said Tom Flesch, CEO of the Gordon Flesch Company. "This honor is a testament to our employees who exemplify what it means to give back, supporting causes that strengthen our communities, and hopefully enriching the lives of our fellow Wisconsinites."
The full list is available for viewing here.
About The Gordon Flesch Company
The Gordon Flesch Company is one of the largest independent providers of office technology solutions in the nation. Family-owned since 1956, the Gordon Flesch Company employs more than 600 people throughout 23 offices in the Midwest, with their corporate office in Madison, Wisconsin. They deliver unique business process expertise to solve challenging problems and achieve organizational goals. This includes integrating industry-leading software and hardware to build custom solutions that are supported by technical expertise, customer service and flexible, in-house financial services. Follow us on Twitter at @GordonFlesch.
About Deloitte's Wisconsin 75 List
For the 16th year, Deloitte is recognizing 75 of the largest and most successful private companies—the Wisconsin 75—for the impact they make. The Wisconsin 75 honors privately held companies headquartered in Wisconsin with annual revenues over $50 million.