Gordon Flesch Company Begins New Era with Grand Opening of Sioux Falls, South Dakota Office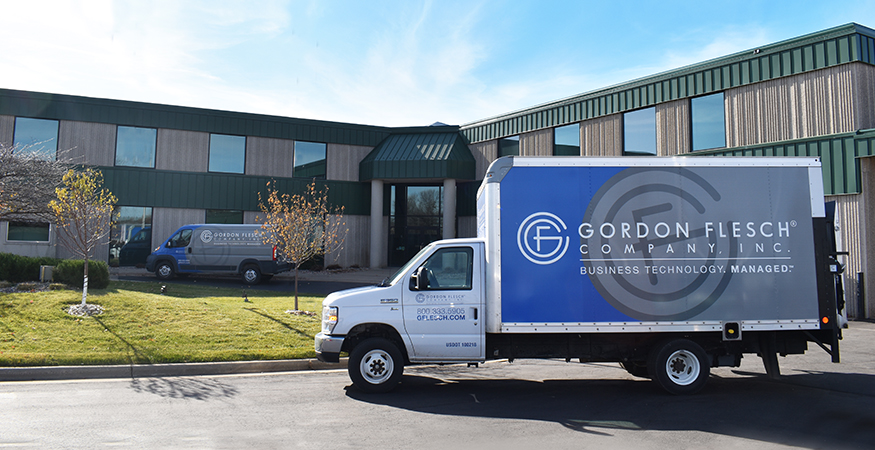 by Gordon Flesch Company, on 02/17/2021
The Gordon Flesch Company (GFC) is proud to officially open its new sales and service office in Sioux Falls, South Dakota. GFC will host a Grand Opening on April 13, 2021 to celebrate its new, larger facility and expanded service capabilities with the community.
With the new Sioux Falls location, GFC now has 31 offices in 7 states supporting more than 600 employees. As the nation's largest independent Canon dealership for six consecutive years and a full-line Lexmark dealer, GFC plans to showcase its extensive product line in the new, larger facility. "We are thrilled to be able to launch this new, larger location for the vibrant community of Sioux Falls," said Bryant Hays Regional Director of Sales and Operations. "As a community-focused technology service provider, we believe in delivering locally-based services and building personal relationships with our customers. We are excited to be able to continue offering excellent service to the thriving businesses that call Sioux Falls home."
The Gordon Flesch Company name is new to the Sioux Falls area, but the service and support we deliver is well-known to the community. In 2019, GFC acquired Advanced Systems, Inc. (ASI), an independent dealer in the office technology industry with offices in Iowa, Minnesota and South Dakota. The combined company is now one of the largest independent office equipment dealerships in the Midwest, offering decades of experience, quality customer experience and technical expertise to thousands of business customers.
In addition to excellent, locally-based customer service, the Gordon Flesch Foundation is active in all communities we serve, donating more than $2 million since the Foundation's inception in 2002. This includes $14,000 donated to food banks across the Midwest and $5,000 in emergency disaster relief to help the Cedar Rapids area recover from storms last year.
GFC's Sioux Falls branch office may have a new location and name, but local businesses can expect to see many familiar faces at this event. For the Sioux Falls Open House and Product Showcase, GFC technology experts will be on hand to discuss the latest office equipment and document management. We will provide a BBQ food truck, beverages, bags tournament and raffle prizes throughout the event.
OPEN HOUSE
WHERE:
Gordon Flesch Company
2600 West 49th Street
Sioux Falls, SD 57105
WHEN:
Tuesday, April 13, 2021
3 - 7 p.m.
4:30 p.m. – Ribbon Cutting with Sioux Falls Chamber of Commerce

RSVP:

Sign up now at

gflesch.com/events
About The Gordon Flesch Company
The Gordon Flesch Company is one of the largest family-owned providers of office technology solutions in the nation. Family-owned since 1956, the Gordon Flesch Company employs more than 600 people throughout 31 offices in the Midwest, with their corporate office in Madison, Wisconsin. They deliver unique business process expertise to solve challenging problems and achieve organizational goals. This includes integrating industry-leading software and hardware to build custom solutions that are supported by technical expertise, customer service and flexible, in-house financial services. Follow us on Twitter at @GordonFlesch.