Flesch Family Gift Delivers High-End Digital Printing Technology to the University of Wisconsin-Stout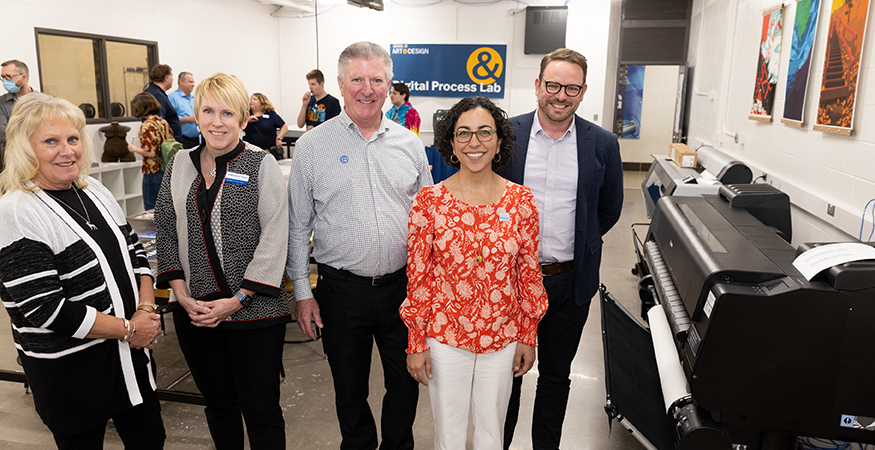 by Gordon Flesch Company, on 05/17/2022
MADISON, WI – Thanks to a generous donation from University of Wisconsin-Stout alumni Bill Flesch, the University's Digital Process Lab is the proud owner of new, state-of-the-art printing equipment.

The Digital Process Lab in the Applied Arts Building opened last fall, with 3,000 square feet of studio space with equipment from the digital processing and digital imaging world. Bill Flesch, a 1981 graduate, is proud to have delivered an in-kind gift, valued at $100,000, to help the next generation of graphic artists and print professionals learn their craft.
The gift includes three Canon printers with professional-grade printing capabilities: a wide-format inkjet, a color copier and a high-volume Canon imagePRESS C650. The Canon imagePRESS is capable of printing 65 high-definition images per minute and the large-format inkjet printers can print items up to 5 feet wide and 100 feet long. Students are not charged to use the lab, with operating costs built into the art and design program budget.
After graduating UW-Stout in 1981 with a Bachelor of Science in General Business Administration, Bill Flesch joined the Kohler Company as a district sales representative. After three years, Gordon Flesch, his father and the founder of GFC, asked Bill to come and work with him. Today, Bill Flesch is Chief Development Officer and Treasurer for the Gordon Flesch Company, one of the nation's largest independent providers of office technology solutions. "The lab has the latest and greatest equipment from the digital processing and digital imaging world," says Flesch. "Students will be learning about digital processing at the highest level, so they'll have experience that others typically won't get."
The technology is now available for use in the Digital Process Lab. Students will be trained to operate the lab's machines but also can upload files remotely and simply stop by and pick up their project, be it a full-color comic book, graphic design project or interior design poster for a class, industry presentation or portfolio. "The lab will be like a town square. Everybody taking art and design classes can access it for their projects," said Dave Beck, associate vice chancellor for Partner and Student Engagement.
Pictured left to right- Debbie Flesch, Chancellor Katherine Frank, Bill Flesch, Provost Glendali Rodriguez and Interim Associate Provost for Partner and Student Engagement Dave Beck.
About the Gordon Flesch Company, Inc.
The Gordon Flesch Company is one of the largest independent providers of office technology solutions in the nation. GFC delivers unique business process expertise to solve challenging problems and help achieve organizational goals. This includes integrating industry-leading software and hardware to build custom solutions that are supported by technical expertise, customer service and flexible, in-house financial services. Follow us on Twitter at @GordonFlesch.
About the University of Wisconsin-Stout
The University of Wisconsin – Stout prepares students for careers through applied learning and research, professional experiences, and collaborative partnerships to benefit a global society. As Wisconsin's Polytechnic University, the university fulfills its mission through a curriculum that combines interdisciplinary knowledge and discipline-specific technical skills with critical thinking, creative problem-solving, communication, and social and ethical reasoning skills to better the human condition.