Gordon Flesch Company Adopts Environmentally Friendly LED Lights to Lower Energy Consumption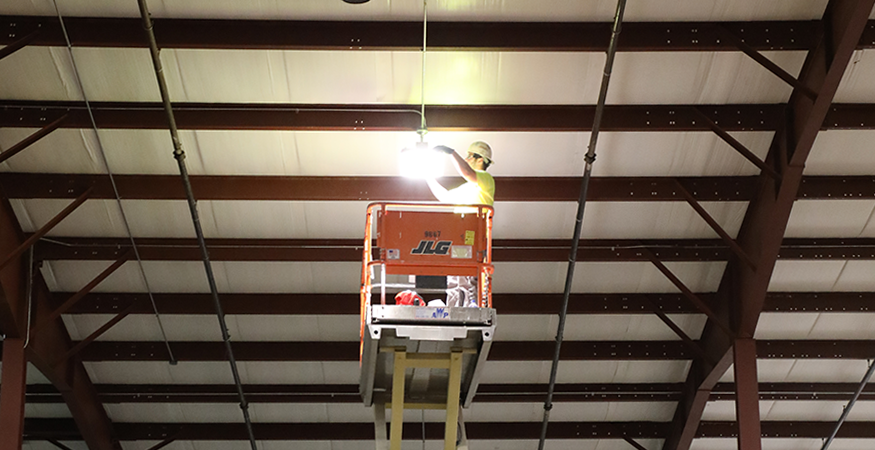 by Gordon Flesch Company, on 12/27/2019
Madison, WI ‑ The Gordon Flesch Company (GFC) is proud to announce it has completed a multi-year project to replace inefficient equipment, appliances and incandescent lightbulbs with energy-efficient replacements. Specifically, GFC has successfully replaced the lighting in its distribution and warehouse facilities with LED bulbs, which will lower energy consumption for the company.
In addition to helping the environment, this initiative will lower energy consumption and the new lighting will lower costs in the long term and earn GFC significant credits and rebates. The upgrades and replacements include new LED lighting and large warehouse fans for the 33,292 square foot Madison WI Technology & Logistics Center and new LED lighting and large warehouse fans, office outdoor parking lights and lobby lighting for the Columbus, Ohio facility.
GFC has a long history of environmental responsibility and recycling. GFC's imageCARE cartridge recycling and remanufacturing program enables us to re-use and recycle empty printer cartridges, reducing environmental impacts and offering a sustainable product to all our customers. According to NA Trading, the volume of recycled units from GFC would fill 7 full-size tractor-trailer shipping containers.
GFC believes the cost of the project will pay for itself over the next 4-5 years as energy rebates thanks to the lower operating cost, lower maintenance and less frequent need to purchase replacement bulbs. "This initiative is just one way being environmentally conscious is built into our company's DNA. It is baked into our imageCARE managed print services and recycling services, and now it's built into our infrastructure as well," says Mark Flesch, COO of GFC. "As we continue to grow, it only makes sense that we make our operations more energy efficient. It's good stewardship and it also makes business sense."
About the Gordon Flesch Company
The Gordon Flesch Company is one of the largest independent providers of office technology solutions in the nation. Family-owned since 1956, the Gordon Flesch Company employs more than 600 people throughout 26 offices in the Midwest, with their corporate office in Madison, Wisconsin. They deliver unique business process expertise to solve challenging problems and achieve organizational goals. This includes integrating industry-leading software and hardware to build custom solutions that are supported by technical expertise, customer service and flexible, in-house financial services. Follow us on Twitter at @GordonFlesch.