Continuum Honors Gordon Flesch Company with Partner of the Year Award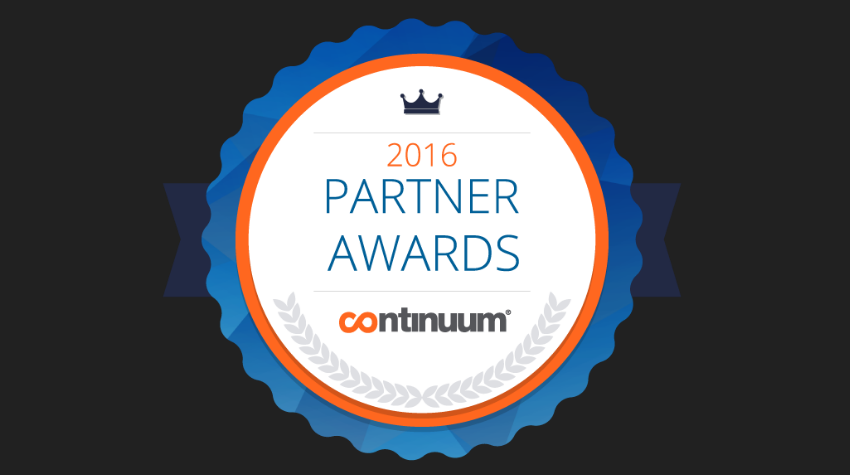 by Gordon Flesch Company, on 09/29/2016
The Gordon Flesch Company has earned Partner of the Year from Continuum®, the only channel-exclusive IT management platform company, presented at Navigate 2016, the company's third annual user conference. Nearly 700 attendees convened at the Seaport World Trade Center in Boston on Wednesday, September 28 – Friday, September 30, 2016. The award was based on who has achieved the highest total revenue for the year with Continuum Solutions.
"Congratulations and continued success to our award-winning partner, the Gordon Flesch Company," said Mark Connolly, Vice President of Sales at Continuum. "They have achieved tremendous success and we are delighted to recognize them at Navigate 2016. We look forward to our continued partnership in the coming year – together, we can accomplish much."
GFConsulting Group, the division of the Gordon Flesch Company responsible for GFC's Managed Services, began in 2012 and has already become an industry leader. This year, the Gordon Flesch Company was ranked in the Top 12 Managed Service Providers.
"We are very honored to have received this award, and it's wonderful recognition for a total team effort," said Director Jeff Dotzler. "We have a great partnership with Continuum that allows us to continue providing our customers with the very best service in the industry."
"This is a tremendous achievement for Jeff, the entire GFConsulting team and everyone who helped make this possible," said CEO Tom Flesch. "In just a very short amount of time, we have become one of the most recognized providers of managed IT services in the country."
Continuum presented the following Partner Awards at Navigate 2016: Partner of the Year, Revenue Rock Star Award, Rookie of the Year, All-in-All Star, Help Desk MVP Award and Continuity 247™ – Business Continuity Award. Continuum also presented four Community Awards: Excellence in Marketing, Collaborate Contribution Champion, Referring Partner Champion and Continuum Content Champion.
For more information on the Gordon Flesch Company, visit: www.gflesch.com
About the Gordon Flesch Company
The Gordon Flesch Company is one of the largest independent providers of office technology solutions in the nation. Family-owned since 1956, the Gordon Flesch Company employs more than 600 people throughout 23 offices in the Midwest, with their corporate office in Madison, Wisconsin. They deliver unique business process expertise to solve challenging problems and help achieve organizational goals. This includes integrating industry-leading software and hardware to build custom solutions that are supported by technical expertise, customer service and flexible, in-house financial services. Follow GFC on Twitter at @GordonFlesch.
About Navigate 2016 by Continuum
The annual industry event for Continuum's MSP partners, Navigate 2016 – held September 28-30, 2016 in Boston – is reaching new heights by bringing together the very top in thought leadership, inspiration and best practices – all focused on the growth of MSPs and the success of the IT channel. Drawing more support than the previous two years, including nearly 700 attendees, the sold-out event features nearly 40 sponsors and exhibitors, four keynote addresses and more than 70 speakers across 36 breakout sessions. Navigate's unique content is designed to help improve business strategies, increase sales and marketing efforts and gain a deeper understanding of Continuum's platform – enabling MSPs to change their business model and become the most successful in the industry. Navigate 2016 has become an unprecedented event, going beyond Continuum as a company and setting new standards for the industry. To learn more, visit: www.continuum.net/navigate2016. For the latest updates, follow #nav16 on Twitter.