Continuum Honors the Gordon Flesch Company with Multiple Awards at 2018 Navigate User Conference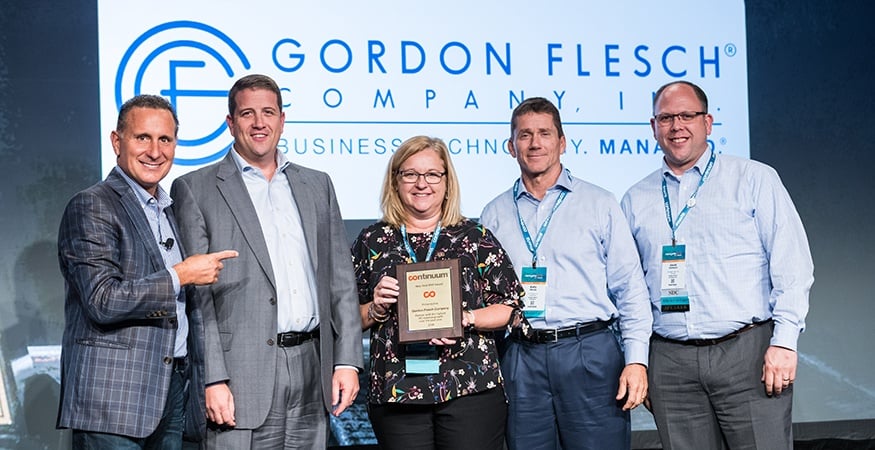 by Gordon Flesch Company, on 10/11/2018
MADISON, WI October 11, 2018 – The Gordon Flesch Company has earned two of the highest honors from Continuum®, the only channel-exclusive IT management platform company. GFC was proud to accept Continuum's 2018 Help Desk MVP Award as well as Office Equipment Partner of the Year Award at the 2018 Navigate Conference.
The Navigate MSP Conference was held September 24-27 at the Seaport Hotel and World Trade Center in Boston. The awards recognized the achievements of leaders in the managed service industry based on revenue, growth, building effective business models, and tackling the challenges of the Managed Service Provider (MSP) market head-on.
"At Continuum, we believe that we succeed only when our partners succeed, which is why the Gordon Flesch Company is an ideal channel partner," said Bob Kocis, CRO, Continuum. "The Gordon Flesch Company embodies everything Continuum looks for in a partner, not just in terms of impressive revenue performance in the managed service space, but also in terms of their commitment to excellent service. That is why it is fitting that GFC should again be awarded the Office Equipment Partner of the Year award as well as the 2018 Help Desk MVP Award."
GFConsulting Group, the division of the Gordon Flesch Company responsible for GFC's Managed Services, began in 2012 and has already become an industry leader. This year, GFC ranked number 15 on the list of the world's 501 most strategic and innovative managed service providers (MSPs), according to Channel Futures 11th-annual MSP 501 Worldwide Company Rankings.
"It is an incredible honor and validation of our business model to not just win the Office Partner of the Year award again, but to win the Help Desk MVP Award, recognizing not just the scale of our services, but the quality of our offerings," says Jeff Dotzler Vice President of GFConsulting. "We are grateful for our great relationship with Continuum, which makes it possible to deliver to our customers the very best service in the industry."
Continuum presented the following Partner Awards at Navigate 2018: Partner of the Year, Partner of the Year - Office Equipment, Partner of the Year - MSP (Revenue and Growth), Partner of the Year - Europe, Partner of the Year - APAC, Lifetime Award, Alliance Partner of the Year, All-in-All Star, Revenue Rock Star, Rookie of the Year, Continuity247 - Business Continuity, Help Desk MVP, Elite Award, Continuum U Master, Excellence in Marketing, and Referring Partner Champion.
For more information on the Gordon Flesch Company, visit: gflesch.com
About The Gordon Flesch Company
The Gordon Flesch Company is one of the largest independent providers of office technology solutions in the nation. Family-owned since 1956, the Gordon Flesch Company employs more than 600 people throughout 23 offices in the Midwest, with their corporate office in Madison, Wisconsin. GFC delivers unique business process expertise to solve challenging problems and help achieve organizational goals. This includes integrating industry-leading software and hardware to build custom solutions that are supported by technical expertise, customer service and flexible, in-house financial services. Follow us on Twitter at @GordonFlesch.
About Continuum
Continuum empowers managed IT service providers, giving them the technology platform, services and processes they need to simplify IT management and deliver exceptional service to their small and medium-sized clients. Continuum's vertically integrated service delivery model combines an unmatched SaaS-based technology suite with a world-class NOC and Help Desk, allowing them to not only remotely monitor, manage, backup and secure their clients' IT environments from a single pane of glass, but scale rapidly and profitably. Continuum employs more than 1,400 professionals worldwide and monitors more than 1 million endpoints for its 5,800 partners, including MSPs servicing more than 60,000 SMB customers and web hosting providers protecting more than 250,000 servers with Continuum's BDR product line. For more information, visit continuum.net or r1soft.com and follow on LinkedIn and Twitter @FollowContinuum.