The Océ Colorado 1640 Printer is Now Available Through the Gordon Flesch Company, America's Largest Independent Canon Dealership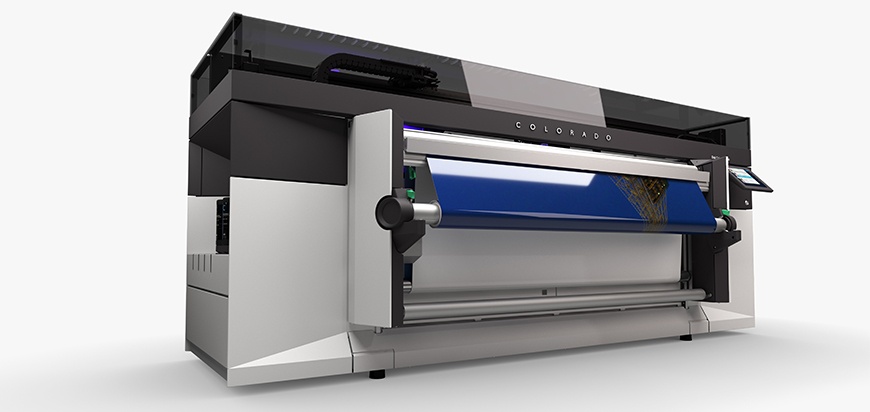 by Gordon Flesch Company, on 10/22/2018
MADISON, WI, October 22, 2018 – The Gordon Flesch Company is proud to announce the Océ Colorado 1640 – Canon's innovative new 64-inch durable, wide format graphic arts roll-to-roll printer, built on the revolutionary new UVgel technology – is now available.
With the introduction of the Colorado 1640, production print service providers now have a clear choice when it comes to a graphics printing system that delivers real efficiencies, lowers operating costs, and helps increase profits. Canon's revolutionary UVgel print technology allows users to print high-quality, large-format images faster and more profitably. Industry analysts say that more than 40% of production jobs need to be turned around within 24 hours, and Canon's innovative technology will allow production print shops to meet growing demand and shrinking deadlines.
"Our customers need to be able to meet the demands for faster job printing and turnaround without compromising quality," says Ted McLeod, Print Solutions Manager for the Gordon Flesch Company. "The Colorado 1640 is the latest example of how Canon remains the most responsive and innovative manufacturer in the production print industry. This is a real game changer."
The Océ Colorado 1640 printer will help GFC serve the needs of production print customers of all sizes, including print jobs that were previously difficult to manage with solvent-based equipment that has slower turnaround times. Product highlights include:
Up to 40 % reduction in printing costs compared to other 64" roll-to-roll technologies
Very high print quality across a wide range of applications without having to significantly compromise productivity by reducing speed
On-the-fly quality assurance technology facilitates unattended printing and reduces print waste
The Gordon Flesch Company Canon earned Canon's "Top Dollar Volume Award" for 2017 as the nation's largest independent office technology dealership of Canon office technology hardware. The addition of the Océ Colorado 1640 will ensure GFC and Canon continue to deliver the highest-quality products and service throughout the Midwest.
Contact us today to schedule an in-person demonstration of the Océ Colorado 1640. For more information on the Gordon Flesch Company, visit: gflesch.com
About The Gordon Flesch Company
The Gordon Flesch Company is one of the largest independent providers of office technology solutions in the nation. Family-owned since 1956, the Gordon Flesch Company employs more than 600 people throughout 23 offices in the Midwest, with their corporate office in Madison, Wisconsin. GFC delivers unique business process expertise to solve challenging problems and help achieve organizational goals. This includes integrating industry-leading software and hardware to build custom solutions that are supported by technical expertise, customer service and flexible, in-house financial services. Follow us on Twitter at @GordonFlesch.
About Canon Solutions America, Inc.
Canon Solutions America provides industry leading enterprise, production, and large format printing solutions, supported by exceptional professional service offerings. With the technology offerings of the Canon and Océ brands, Canon Solutions America helps companies of all sizes find ways to: improve sustainability, increase efficiency, and control costs in conjunction with high volume, continuous feed, digital and traditional printing, and document management solutions. A wholly owned subsidiary of Canon U.S.A., Inc., Canon Solutions America is headquartered in Melville, N.Y. and has sales and service locations across the U.S. For more information on Canon Solutions America, please visit csa.canon.com.