Children of GFC Associates Awarded 2020 BTA Scholarship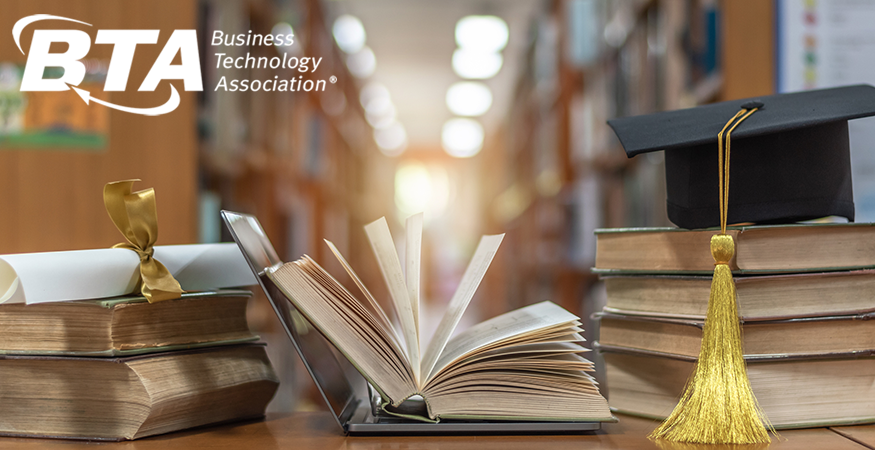 by Gordon Flesch Company, on 08/10/2020
Annual Program Provides Financial Support to Children of Office Technology Dealership Employees
August 10, 2020 Gordon Flesch Company (GFC) is proud to announce two Business Technology Association (BTA) Scholarships have been awarded to children of company employees. The winners are Andrew Zea, son of Larry Zea, a GFC Account Executive and Anne Dotzler, daughter of Jeff Dotzler, President at Elevity, a Gordon Flesch Company.
Each year, BTA awards scholarships to qualifying children of full-time employees of dealerships that are current BTA Retail Dealer members. Since the 1984-85 school year, BTA has presented 1,470 scholarships to deserving students, totaling $1.664 million. Scholarship recipients are chosen each year by an impartial and independent evaluator.
BTA awarded 23 scholarships for the 2020-21 academic school year, recognizing academic achievement as well as extracurricular activity and community service.

Andrew Zea is currently a senior at the University of Alabama where he is majoring in Business Management Operations and Management of Information Systems. He is the Vice President of his fraternity and after graduation seeks a career path that combines his passion for technology with business training.

Anne Dotzler just graduated from Waunakee Community High School where she earned a 4-year Superior Honor Roll with a 4.129 GPA. She played Varsity Soccer, Cross Country and Basketball and served as Class Vice President. Anne also served as an Academic Peer Tutor and volunteered with the Pay It Forward Club and will attend the University of Iowa in the Fall.
In addition to participating in BTA and other programs, the Gordon J. Flesch Scholarship Program provides support to children of company associates. "GFC has always put a high priority on supporting education through our own scholarship program and charitable giving," says Thomas Flesch, CEO of the Gordon Flesch Company. "As a family-owned company, we are thrilled and gratified to see the next generation accomplishing so much and earning national honors."
About The Gordon Flesch Company
The Gordon Flesch Company is one of the largest independent providers of office technology solutions in the nation. Family-owned since 1956, the Gordon Flesch Company employs more than 650 people throughout 33 offices in the Midwest, with their corporate office in Madison, Wisconsin. They deliver unique business process expertise to solve challenging problems and achieve organizational goals. This includes integrating industry-leading software and hardware to build custom solutions that are supported by technical expertise, customer service and flexible, in-house financial services. Follow us on Twitter at @GordonFlesch.
###