Gordon Flesch Charitable Foundation Donates $20,750 to Columbus-Area Charities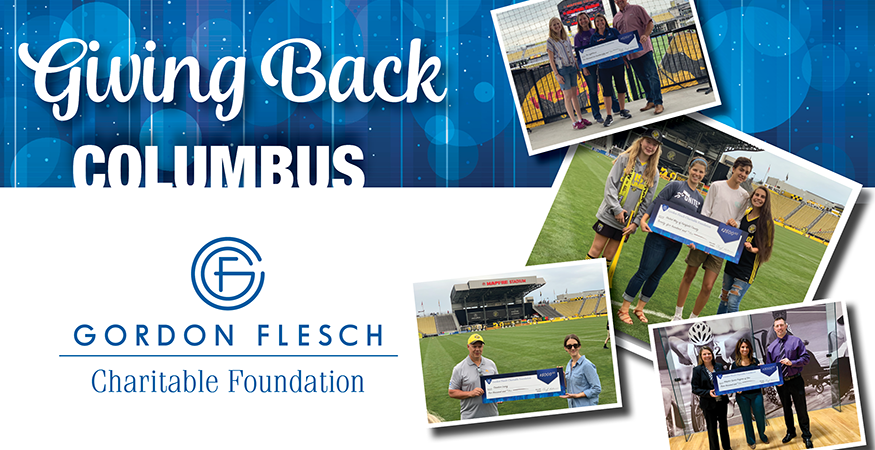 by Gordon Flesch Company, on 10/22/2019
The Gordon Flesch Charitable Foundation is proud to announce that it has awarded $135,000 to 32 organizations in Wisconsin, Indiana, Ohio and Illinois in 2019. This includes $20,750 for 5 Columbus organizations so that they can continue providing support and non-profit work for their communities. Organizations receiving grants in 2019 include:
The Lighthouse is the only domestic violence shelter between the Columbus and Ohio Rivers, providing victims with housing and legal support to rebuild their lives after escaping an abusive situation. The 2019 grant awarded to The Lighthouse will help them secure the exterior of their building.

Garrett Recovery Housing offers safe, secure, and supporting sober living to those in recovery. A grant from the Charitable Foundation will allow them to introduce new programs and opportunities to women overcoming the cycle of recovery. In addition, bus passes will be offered so women in the program can get to work.

United Way of Fairfield County has been providing financial support to local programs in the Fairfield County community since 1940. GFC funds will help the Feeding Our Future program offer a package of food for students to take home on the last Friday of every month. The package includes a variety of choices to get the student through the weekend and the program will be able to serve up to an additional 900 students per month.

The Adaptive Sports Program of Ohio helps residents with physical disabilities participate in athletic programs and competitions, building confidence, friendships, and a sense of normalcy. The 2019 grant awarded from the Charitable Foundation assists with programming costs for sled hockey, allowing the organization to assist an entire team with ice rental time for sled hockey practices.

Creative Living provides housing and support to physically disabled individuals from two apartment complexes adjacent to The Ohio State University. A grant from the Gordon Flesch Charitable Foundation has been used in the Resident Assistant Program to more quickly respond to resident needs – whether to remove a jacket, reach a book, help transfer from bed to wheelchair or to handle a full emergency.
Since its inception in 2002, the Gordon Flesch Charitable Foundation has donated nearly $2 million to various philanthropic organizations in Wisconsin, Illinois, Indiana and Ohio. Each year, the foundation donates to the communities within GFC's territories, staying true to founder Gordon Flesch's mission to support the communities where GFC's employees and customers live and work.
Unlike most corporate giving programs, the Gordon Flesch Charitable Foundation is managed entirely by company associates. Each year associates nominate organizations close to their hearts and close to their communities. The Foundation's board of directors reviews nominations and selects award recipients.
"The Gordon Flesch Company Foundation is just one of the ways GFC strives to engage in and support the communities in which we live and work," says Cheryl Halverson, President, of the Gordon Flesch Charitable Foundation. "Through the Foundation's work, we want to make sure GFC employees have the opportunity to engage with our fellow citizens, which is why it is important to us that the charitable giving is driven by our Associates and not through a third party or other intermediary."
"Investing in our communities is one of the most important ways we can generate economic opportunity and support upward mobility for all people," says Jeff Peters, Vice President of the Gordon Flesch Charitable Foundation. "We are excited and humbled to be able to help all of these great organizations and will be happy to see how each one of them uses their grant to continue all of the great work they perform for our communities."
If you're interested in learning more about the Gordon Flesch Charitable Foundation, or to apply for the next round of grants, visit our website or download our brochure.
About The Gordon Flesch Company
The Gordon Flesch Company is one of the largest independent providers of office technology solutions in the nation. Family-owned since 1956, the Gordon Flesch Company employs more than 600 people throughout 23 offices in the Midwest, with their corporate office in Madison, Wisconsin. They deliver unique business process expertise to solve challenging problems and achieve organizational goals. This includes integrating industry-leading software and hardware to build custom solutions that are supported by technical expertise, customer service and flexible, in-house financial services.