Gordon Flesch Charitable Foundation Donates $23,500 to Chicago-Area Charities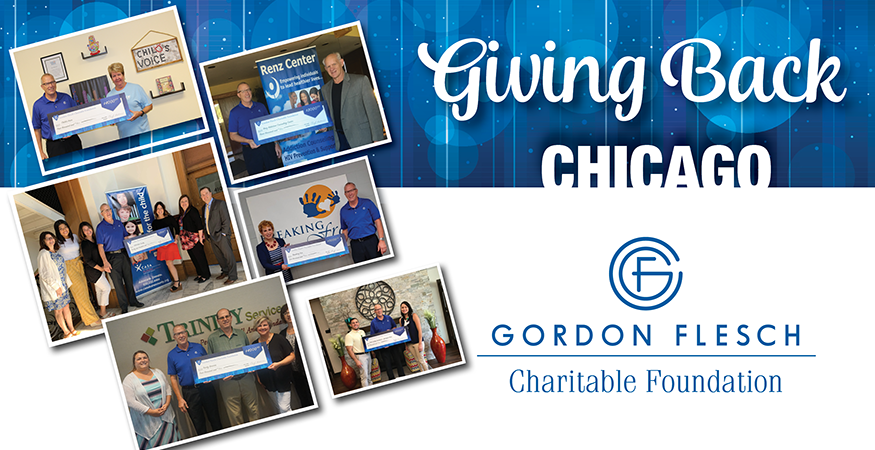 by Gordon Flesch Company, on 10/23/2019
The Gordon Flesch Charitable Foundation is proud to announce that it has awarded $135,000 to 32 organizations in Wisconsin, Indiana, Ohio and Illinois in 2019. This includes $23,500 for 6 Chicago organizations so that they can continue providing support and non-profit work for their communities. Organizations receiving grants in 2019 include:
Child's Voice, which since 1996 has been the only private school in northern Illinois that supports children with hearing loss. GFC's donation will provide funding to the Early Prevention Program, which provides a listening and spoken language education to children with hearing loss to age three.

GFC's donation to the Renz Addiction Counseling Center will provide a seven-week summer program for at-risk minority youth. The organization provides substance abuse, gambling disorder counseling, HIV prevention and other services throughout the central Fox Valley region. GFC's donation will provide a seven-week summer program for 40 at-risk minority youth.

Waterford Place Cancer Resource Center provides a safe, warm, comforting, non-clinical space that is a place of peace, restoration and healing for those going through cancer treatments. GFC's donation will enable Waterford Place to increase the number of programs and services offered to cancer patients and their caregivers from July 2019 through June 2020.

Trinity Services is an employment and educational service for adults in more than 30 Illinois communities. GFC's donation will provide employment services for adults with intellectual/development disabilities and mental illness.

Breaking Free Counseling is a mental health organization that helps individuals and families in Kane, Du Page, Grundy, Kendall and Will counties rebuild lives impacted by substance abuse, child abuse, and other life challenges. GFC's donation will help provide continuing counseling services at a cost of less than 50 cents per person.

CASA Kane County serves abused and neglected children from the age of birth to 21. GFC's donation will help purchase 25 backpacks or suitcases for abused and neglected children in the foster care program.
Since its inception in 2002, the Gordon Flesch Charitable Foundation has donated nearly $2 million to various philanthropic organizations in Wisconsin, Illinois, Indiana and Ohio. Each year, the foundation donates to the communities within GFC's territories, staying true to founder Gordon Flesch's mission to support the communities where GFC's employees and customers live and work.
Unlike most corporate giving programs, the Gordon Flesch Charitable Foundation is managed entirely by company associates. Each year associates nominate organizations close to their hearts and close to their communities. The foundation's board of directors reviews nominations and selects award recipients.
"The Gordon Flesch Company Foundation is just one of the ways GFC strives to engage in and support the communities in which we live and work," says Cheryl Halverson, President, of the Gordon Flesch Charitable Foundation. "Through the Foundation's work, we want to make sure GFC employees have the opportunity to engage with our fellow citizens, which is why it is important to us that the charitable giving is driven by our Associates and not through a third party or other intermediary."
"Investing in our communities is one of the most important ways we can generate economic opportunity and support upward mobility for all people," says Jeff Peters, Vice President of the Gordon Flesch Charitable Foundation. "We are excited and humbled to be able to help all of these great organizations and will be happy to see how each one of them uses their grant to continue all of the great work they perform for our communities."
If you're interested in learning more about the Gordon Flesch Charitable Foundation, or to apply for the next round of grants, visit our website or download our brochure.
About The Gordon Flesch Company
The Gordon Flesch Company is one of the largest independent providers of office technology solutions in the nation. Family-owned since 1956, the Gordon Flesch Company employs more than 600 people throughout 23 offices in the Midwest, with their corporate office in Madison, Wisconsin. They deliver unique business process expertise to solve challenging problems and achieve organizational goals. This includes integrating industry-leading software and hardware to build custom solutions that are supported by technical expertise, customer service and flexible, in-house financial services.