The Gordon Flesch Company Earns Canon's Top Dollar Volume Award as Canon U.S.A.'s Largest Independent Office Technology Dealer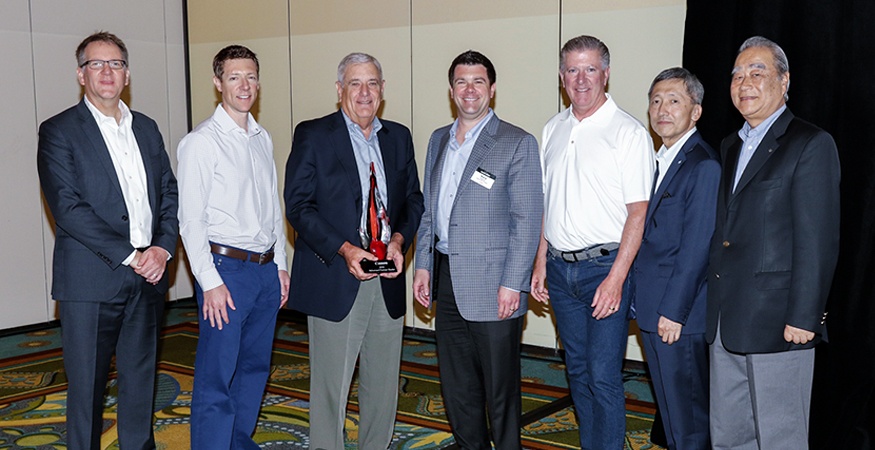 by Gordon Flesch Company, on 07/25/2018
The Gordon Flesch Company has once again been honored as the highest-earning Canon dealership in the United States.
July 24, 2018 Madison, WI ‑ The Gordon Flesch Company is proud to announce that Canon U.S.A. Inc. has acknowledged that the company is the nation's largest independent office technology dealership of Canon office technology hardware. Canon has awarded the Gordon Flesch Company the "Top Dollar Volume Award" for 2017 in honor of this achievement.
The Gordon Flesch Company, Inc., one of the nation's leading independent providers of office technology, is proud to accept this award, which recognizes the company as Canon U.S.A.'s largest independent dealership. In certifying this award, Toyotsugu Kuwamura, Executive Vice President and General Manager of Canon U.S.A.'s Business Imaging Solutions Group, thanked GFC employees for their hard work and dedication, and noted that Canon looks forward to helping GFC maintain this momentum. "Canon U.S.A. is pleased to give the Gordon Flesch Company the 2017 Top Dollar Volume Award, as the company has once again generated the highest volume of purchases among all Canon dealers in the United States," says Kuwamura. "We have enjoyed a long and successful relationship with the Gordon Flesch Company and look forward to maintaining this momentum across all of GFC's markets. Congratulations to the entire GFC team."
Family-owned for 62 years, GFC has greatly evolved and expanded since its beginnings as a technology equipment reseller. The Gordon Flesch Company first partnered with Canon in 1980 and has been the top-selling independent Canon dealer in the nation for many years running. With over 150 Canon-certified service engineers on staff, customers can count on Canon and GFC to deliver the best hardware and software in the industry. "When my father, Gordon Flesch, founded his company in 1956, he was a true pioneer, committed to adopting the best technology and delivering it to our customers with the most reliable and dedicated service teams," says Tom Flesch, CEO of Gordon Flesch Company, "Our partnership with Canon has been a continuation of that ideal, and I am thrilled to be able to say that with Canon as a partner, we have been able to remain a shining example of a family-owned business that has evolved and continues regularly to thrive and innovate."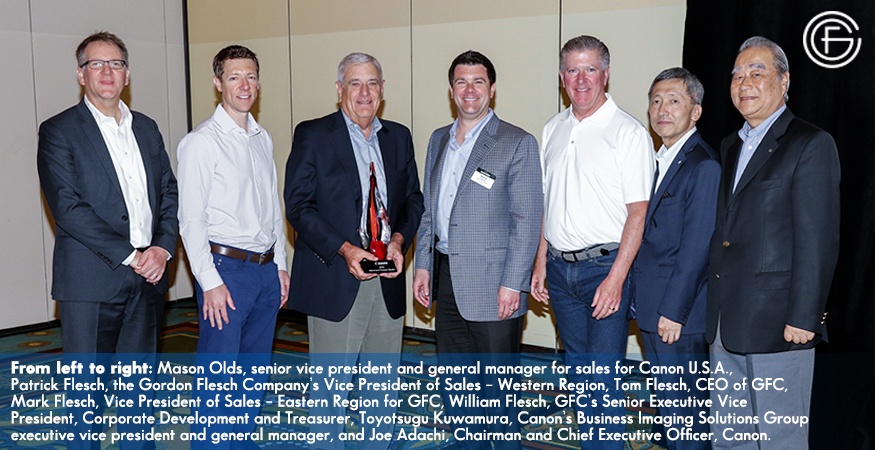 About The Gordon Flesch Company
The Gordon Flesch Company is one of the largest independent providers of office technology solutions in the nation. Family-owned since 1956, the Gordon Flesch Company employs more than 600 people throughout 26 offices in the Midwest, with their corporate office in Madison, Wisconsin. They deliver unique business process expertise to solve challenging problems and achieve organizational goals. This includes integrating industry-leading software and hardware to build custom solutions that are supported by technical expertise, customer service and flexible, in-house financial services. Follow us on Twitter at @GordonFlesch.
About Canon U.S.A., Inc.
Canon U.S.A., Inc., is a leading provider of consumer, business-to-business, and industrial digital imaging solutions to the United States and to Latin America and the Caribbean markets. With approximately $36 billion in global revenue, its parent company, Canon Inc. (NYSE:CAJ), ranks third overall in U.S. patents granted in 2017† and is one of Fortune Magazine's World's Most Admired Companies in 2018. Canon U.S.A. is committed to the highest level of customer satisfaction and loyalty, providing 100 percent U.S.-based service and support for all of the products it distributes in the United States. Canon U.S.A. is dedicated to its Kyosei philosophy of social and environmental responsibility.