GFC Earns Title of 2018 Elite Dealer from ENX Magazine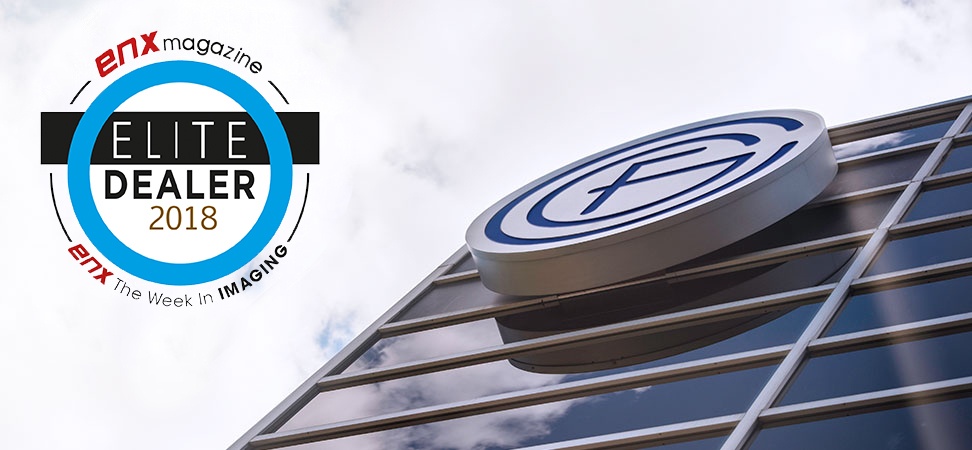 by Gordon Flesch Company, on 11/09/2018
MADISON, WI, November 9, 2018 – The Gordon Flesch Company (GFC), a leading technology solutions provider and the largest independent Canon Dealer in the U.S., was recently named a 2018 Elite Dealer by ENX Magazine.
ENX Magazine's list is an annual Who's Who list of technology dealers, ranking dealerships ranging in size from $5 million to over $200 million in yearly revenue. Published since 1988, criteria include growth initiatives, innovative marketing programs, outstanding customer service, charitable contributions to the community, and adaptability to an ever-changing market.
The award reflects the Gordon Flesch Company's place as one of the most innovative and successful dealerships in the United States. Since ENX Magazine's 2017 list was published, Canon U.S.A. Inc. awarded the Gordon Flesch Company the "Top Dollar Volume Award," acknowledging that the company is the nation's largest independent office technology dealership of Canon office technology. In addition, Thomas Flesch, CEO and President of The Gordon Flesch Company, was named to the 2018 Difference Makers of the Document Technology Industry List by ENX Magazine.
"GFC has differentiated it's brand by focusing on improvements that drive customer satisfaction," said the Gordon Flesch Company's CEO, Tom Flesch. "It is very gratifying to have those efforts not only drive growth for GFC, but once again have earned us this prestigious honor from ENX Magazine."
In addition to offering clients premier business technology equipment, GFC also offers consulting services and financial solutions with GFConsulting and in-house leasing. Additionally, The Gordon Flesch Charitable Foundation, managed entirely by company associates, has donated over $1.9 million to local charities since its inception in 2002.
"We would like to congratulate our 2018 Elite Dealers, who continue to thrive and grow in a highly-competitive marketplace. Even as the needs of their clients continue to evolve, these dealers blend many 21st century tools and tactics with old-fashioned customer service—backed by a loyal workforce—to ensure successful outcomes," said Susan Neimes, managing editor of ENX Magazine and ENX The Week In Imaging.
Added Erik Cagle, editorial director of ENX Magazine, "The strength and vitality of this group is a testament to their core values. It seems that every year, as the industry continues to consolidate, our roster of Elite Dealers continues to grow by leaps and bounds. There are many fascinating success stories to be told, and they can be found in our December issue."
About The Gordon Flesch Company
The Gordon Flesch Company is one of the largest independent providers of office technology solutions in the nation. Family-owned since 1956, the Gordon Flesch Company employs more than 600 people throughout 23 offices in the Midwest, with their corporate office in Madison, Wisconsin. GFC delivers unique business process expertise to solve challenging problems and help achieve organizational goals. This includes integrating industry-leading software and hardware to build custom solutions that are supported by technical expertise, customer service and flexible, in-house financial services. Follow us on Twitter at @GordonFlesch.
About ENX
ENX magazine is a monthly publication dedicated to the document imaging industry since 1994. In its 24th year, ENXmagazine delivers exclusive editorial coverage on market opportunities and issues, news and trends, company profiles, new products and industry insights through interviews with key players in all segments of the document imaging industry. With a circulation of more than 30,000 hard copies, ENX magazine serves a leading integrated resource that brings together industry people, products and business concepts and strategies for document imaging industry professionals. The ENX eNewsletter is delivered weekly to approximately 12,000 opt-in subscribers, bringing readers timely and relevant industry information, including news and columns as well as special features and complementary content to ENX magazine.