Commercial printmakers are probably tired of hearing the latest industry buzzword: convergence. In the production print world, convergence simply means branching beyond traditional lines of business into new profit-making applications.
Convergence sounds good on paper but, like any overused buzzword, it's often easier said than done. Commercial printers understand that investing in the wrong equipment or production facilities could be a costly and potentially fatal move. However, there is one area in which convergence is taking off in a major way — large format printing. In fact, a new report on convergence in the commercial printing market found that 93% of print operators believe they need to expand into other market and product segments. In addition, commercial printing companies reported that 20% to more than 60% of their current revenues come from what they define as wide-format production. And, according to IDC, the large format printer market grew 4% year over year last year.
In other words, in the printing business, bigger is better and more is more.
Large Format Printing: This is Big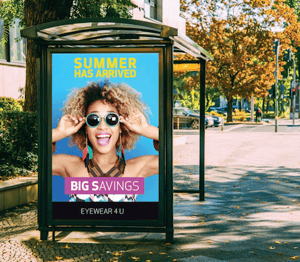 Investing in large format commercial printing can be a significant cost and risk. If you build large format printing capabilities, how do you know that customers will come?
Large format printing is becoming an essential tool for marketers and advertisers. In a world saturated with advertising and marketing, colorful, large format printing may be one of the best and most effective ways to get noticed in today's congested media landscape.
As Americans are inundated with advertisements on their phones, televisions, radios and storefronts, research indicates that large format printing may be the most effective tool marketers can deploy.
For example:
68% of Americans purchased a product or service simply because a sign caught their eye
76% have walked into a store because its sign caught their interest
79% of consumers remember a business because of its signage
Source: FedEx Surveys
Becoming Large Format-Savvy
Though bigger may be better, it's not necessarily straightforward or easy to begin printing on a large format machine, even if you have extensive experience with other formats. Wide format prints can be deployed in all kinds of exotic new places like vehicle wraps, wallpaper and building fronts. But those new applications come with interesting new questions.
For example, what are the harsh environmental conditions it will be exposed to and the length of time it will be in use? Will your current equipment be capable of handling large formats, or do you need to also invest in new routing and cutting tables, die cutters, folder/gluers, taping and sewing machines, and laser cutters, as well as equipment for grommets and film lamination?
You may also need to consider if your shop can handle the different substrates (canvas, vinyl, fabric, paper, film, back-lit film, etc.) and various inks found in new large format machines. The longer drying and setting times that are required for many types of large format prints can complicate and impede your workflows if not properly integrated.
Not a Trivial Matter
Most commercial print companies probably think of large format print capabilities as a complement or supplementary service they can provide to their customers ­ — a value-add to their traditional lines of business. To the contrary, we've seen that large format printing can be a differentiator that initially brings new customers in the door and leads to more traditional services and formats. Fortunately, the latest large format printer technology overcomes the common pitfalls of legacy printers, so be sure to check out our visual guide to learn more about Overcoming the Top 5 Production Print Challenges.
The right partner should assess your printing facilities and help optimize your workflows so you can get the best results. The Gordon Flesch Company has the technology and production print experts who can help you deliver powerful, wide-format projects with superior image quality. You can now make everything from engineering blueprints, banners or indoor and outdoor advertising with one machine. And you can have it done on all kinds of media, including canvas, Tyvek, synthetics and even wallpaper.
The Gordon Flesch Company is the largest independent Canon dealer in the nation. We have been offering high-end production print technology across the Midwest for almost 20 years and we'd love to show you how our print experts can help optimize your print environment. Contact us today for a no-cost, no-obligation assessment of your print production needs.
Photo Source: Océ Colorado 1640 Printer Powered by Canon UVgel Technology Brochure