A modern office printer can do more than just "make copies;" it can help you be more productive, improve your office workflows and even help secure your digital assets from hackers and corporate espionage. Surprised?
But how do you find the right business printer for your company? When it comes to the best office printers, 2020's options can make your head spin. An online search will reveal many that are intended for home offices, are low quality color inkjet printers with expensive toner cartridges, or simply won't work (for long) in a real office settings.
Here, we'll parse through the confusion and give you our top picks for all-in-one printers based on their intended use and size of your organization.
Best Small Office Printer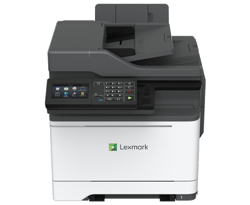 Maybe your company isn't printing thousands of copies every month, but you still need a reliable printer that can get the job done and produce quality photos securely. Lexmark has several budget-friendly options, including this color laser printer with multi-function capabilities.
Duplex (2-sided) Printing
Print Speed up to 33 ppm
Monthly page volume: 1500 - 8500 pages
3-inch e-Task color touch screen
Reduce and enlarge range from 25-400%
ENERGY STAR® (2.0) and Blue Star® certification
---

Best Midsize Office Printer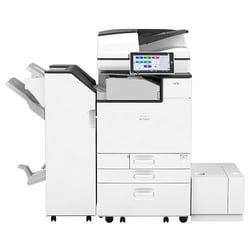 If your organization is trying to go green, you'll be happy to know that Ricoh earned the 2019 Energy Star Partner of the Year award. Units are also built with recyclable plastics and offer energy saving modes. But what you're probably most interested in is how reliable it is and whether it can meet the printing demands of your midsize company. It's got your back there, too.
Print up to 45 ppm, copy, scan and fax (optional)
1200 x 1200 dpi max print resolution
Paper capacity of 1,200 pages (up to 4,700 pages with optional paper trays)
Smart Operation Panel for an intuitive and responsive user experience
Cloud-based mobile connectivity with Ricoh's Smart Device Connector
Security features: DataOverwriteSecurity System (DOSS), user authentication, swipe-to-print and HDD encryption
Can be updated with new features, enhancements and online services to simplify and expedite tasks
---
Best Light Production Multifunction Printer
imagePRESS Lite C165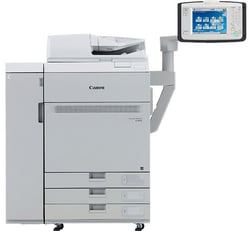 Education, finance and other industries require high yield outputs, but they also require high quality images and documents. Combining high speed and high image quality is often difficult to achieve. But this Canon imagePRESS model is a great printer option that's fast and can produce amazingly rich, vibrant and vivid images on a wide variety of media, including textured stocks.
It also helps that Canon's entire managed print software solution, uniFLOW Online, is Cloud-based, meaning you no longer need to purchase and manage server hardware to have advanced print services across your printer fleet, and administrator workloads can be reduced, especially in large-scale fleet environments. This model offers many features and functionalities usually reserved for high-end digital printing press machines.
Easy-to-use interface and intuitive touch screen
Production speeds of up to 65 ipm (duplex scanning at 300 dpi)
7,050-sheet feeding capacity with up to six different sources
Wide array of productive and versatile in-line accessories
Produce work on stocks up to 130 lb. cover and specialty stocks including envelopes, tabs, and long sheets
Meets ENERGY STAR® standards and rated EPEAT Gold
2400 x 2400 dpi print resolution utilizing the unique R-VCSEL imaging technology
McAfee® Embedded Control protects against malware and tampering of firmware and applications
---
Best Large Format Production Printer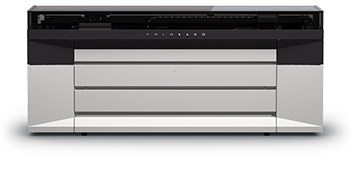 When printing and graphics are at the heart of your business model, you need capabilities that can produce stand-out image quality in a range of sizes and materials. Production print service providers can rely on Canon's revolutionary UVgel print technology to produce large-format images faster to meet tight deadlines without giving up image quality. It's the world's fastest 64-inch roll-to-roll printer, and companies can save up to 40% in printing costs compared to other 64" roll-to-roll technologies.
Production print companies and print shops reported that 20% to 60% of their revenues came from wide-format production, and the market is growing. Thankfully, this machine can practically do it all, including large signs, banners, wallpaper murals and posters for both indoor and outdoor applications — all with brilliant clarity.
Outdoor banners can be printed at 1,710 sq/ft hr and indoor POP at 610 sq/ft hr
Industrial designed production printer built to withstand high duty cycles
Very high print quality across a wide range of applications
Extremely easy and fast media loading and automatic switching with the support of 2 in-line rolls
Facilitates unattended printing and reduced print waste
Automated maintenance provides consistent print quality and higher uptime
UV curable ink bonds instantly on contact with the media, resulting in precise dot placement and area control for consistent high-quality images at high speed
Ultra-thin ink dispersion of UVgel technology has instant pinning and dot gain control and large color gamut of solvent inks combined with the environmental benefits and safety profile of latex and UV inks.
Low temperature curing - suitable for thin and heat-sensitive media
Outstanding scratch resistance
Easy lamination, ultra-thin smooth ink film
High precision color-matching and consistency
Odorless and instant dry printout
Supported RIPs - ONYX® Graphics, Caldera
---
What Printer is Right for You?
Truth is, there are a lot of printer options that can fit the needs of your business, whether you're a small business or midsize business (SMB) looking to meet the day-to-day demands of your organization, or you're pushing out high volume print jobs with discerning quality standards. Be sure to check out our virtual showroom interactive tour to see other options when you click the link below.
Rather than taking a best guess, it's wise to take advantage of a free consultation to assess your needs and make a tailored recommendation. Reach out to talk with our managed print experts at the Gordon Flesch Company today.