7 Reasons to Move to Managed Print Services with Zebra Thermal Printers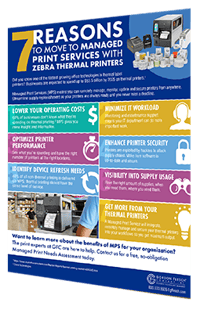 Did you know one of the fastest growing office technologies is thermal label printers? Businesses are expected to spend up to $53.5 billion by 2025 on thermal printers.
Managed Print Services (MPS) means you can remotely manage, monitor, update and secure printers from anywhere. Streamline supply replenishment so your printers are always ready and you never miss a deadline.
Fill out the form to get your free infographic today!