Can You Relate? Major Signs You Need Managed Print Services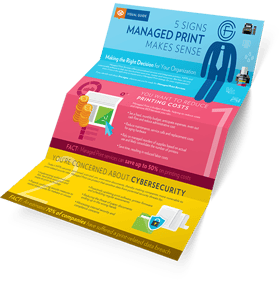 From paper jams to potential security threats — these are just some of the issues that a Managed Print service can help your company resolve. But would your organization really benefit?
Use our helpful infographic, 5 Signs Managed Print Makes Sense, to identify if now is the right time to seriously consider Managed Print, and the surprising benefits it can offer such as:
Reducing labor and printing costs

Minimizing the risk of data breaches

Preventing printer problems before they occur

Increasing efficiencies across departments

Supporting green initiatives


And much more!
Do you see the signs? Find out by filling out the form and receive your free copy of our infographic today.