Cybersecurity — Don't Forget Your Printers!
5 Printer Security Risks. 5 Solutions.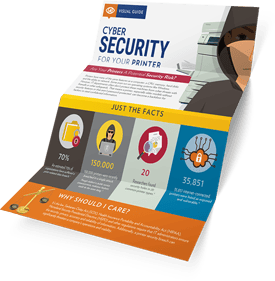 Today's printers have many of the same features as computers, and more: scanning, copying, printing, faxing and document storage. They also feature many of the same security risks.
We've gathered some startling statistics to demonstrate how real the risks of a print-related cyberattack may be for your organization, including a list of the five main areas of concern.
Don't worry. We also share five printer security solutions to help ensure your data remains secure.
There's even a mini case study showing how one company protected its classified research and development projects as part of its print security strategy.
Get your copy of our Cybersecurity for Your Printer infographic now by filling out the form.