Elevity Ranked Among Elite Managed Service Providers on Inaugural NextGen 101 List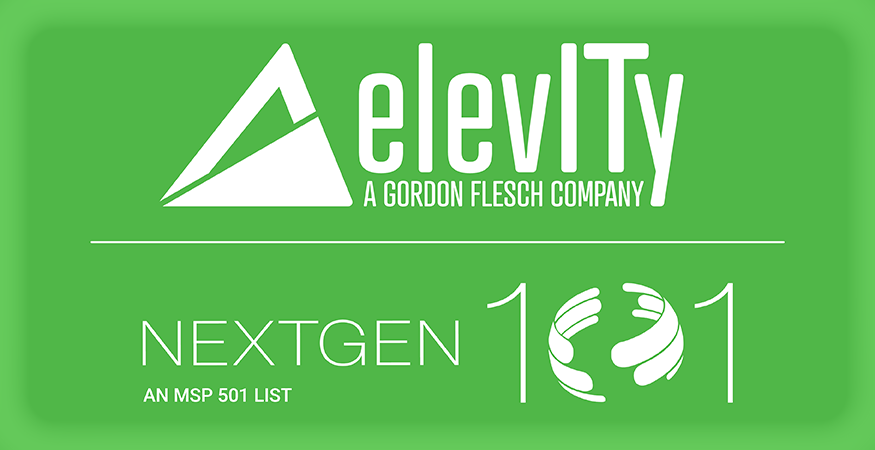 by Gordon Flesch Company, on 12/17/2020
Elevity has been named as one of the world's premier managed service providers on the prestigious new 2020 Channel Futures NextGen 101 rankings.
The NextGen 101, an MSP 501 list, features resellers, system integrators, consultants and other partners with recurring revenues from business models that are diversified beyond managed or cloud services.
Elevity was born in 2020 through the combination of Gordon Flesch Company's (GFC) Managed IT division and recently acquired Information Technology Professionals (ITP). "The Elevity mission is to deliver elevated level of IT strategy, security, solutions and support for organizations large and small," says Jeff Dotzler, President of Elevity. "We're grateful to be included in the Channel Futures NextGen 101 list, which recognizes organizations that strive to deliver more than just traditional managed services, but provide a holistic approach that aligns the customer's technology with their business goals."
Channel Partners and Channel Futures always wants to ensure that their partner communities are being recognized for what they do best and are therefore creating programs targeted toward their needs. The Nextgen 101 represents that effort.
"The NextGen 101 is designed specifically to honor partners dedicating resources to building out their practices — all while maintaining the integrity of their core businesses," said Allison Francis, editor and content producer at Channel Partners and Channel Futures. "Maybe these partners will become the MSP powerhouses of the future. Maybe they'll continue to expand their managed services capabilities while also devoting resources to core competencies. Or maybe they'll become a new kind of hybrid partner that isn't yet even on our radar. We can't wait to see what these companies will do next, and we're excited to honor them in a list of their very own."
The data collected by the annual MSP 501 program drives Channel Partners' and Channel Futures' market intelligence insights, creating robust data sets and data-based trend reports that support our editorial coverage, event programming, community and networking strategies and educational offerings. It serves as a lynchpin to dozens of programs and initiatives.
The complete 2020 NextGen 101 list is available at Channel Futures.
About the Gordon Flesch Company and Elevity
The Gordon Flesch Company is one of the largest independent providers of office technology solutions in the nation. Family-owned since 1956, the Gordon Flesch Company employs more than 620 people throughout 35 offices in the Midwest, with their corporate office in Madison, Wisconsin. They deliver unique business process expertise to solve challenging problems and achieve organizational goals. This includes integrating industry-leading software and hardware to build custom solutions that are supported by technical expertise, customer service and flexible, in-house financial services. Follow us on Twitter at @GordonFlesch. In addition, the newly formed Elevity serves more than 400+ customers and employ 70 MSP staff in locations across the Midwest. Follow us on Twitter at @elevity_it
About Informa Tech
Channel Futures, Channel Partners Online, Channel Partners Conference & Expo and Channel Partners Evolution are part of Informa Tech, a market-leading B2B information provider with depth and specialization in the Information and Communications (ICT) Technology sector. We help drive the future by inspiring the Technology community to design, build and run a better digital world through our market-leading research, media, training and event brands. Every year, we welcome 7,400+ subscribers to our research, more than 3.8 million unique visitors a month to our digital communities, 18,200+ students to our training programs and 225,000 delegates to our events.